The coaches on "The Voice" live shows week two, Monday night all decided to wear black. However, Adam Levine must have NOT gotten the memo. He was relaxing in his chair sporting a brown cardigan, light colored shirt with blue jeans. He said he felt out of place next to CeeLo Green's all-black "Zorro" look with the hat to match, Christina Aguilera's sexy black dress and light makeup, and Blake Shelton's all-black Johnny Cash styled outfit. Adam said he looked more like "Mr. Rogers".
During the last segment of the show, Adam changed his whole attire to one more appropriately coordinated with the rest of the coaches. He came out in a Marlon Brando look from the movie "The Wild One," or, as one Tweet suggested, like "The Fonze" from Happy Days.
TEAM CEELO
CAROLINE PENNELL
Singing "Wake Me Up"
Blake said she was able to keep with the rhythm even "with that audience!"
Adam told Caroline You have great, fantastic rhythm -I agree with everything he said. There's a purity to what your doing. Great job!
Watch Caroline Pennell Sing "Wake Me Up" HERE
TEAM CHRISTINA
JOSH LOGAN – (Eliminated)

Allow the Song to Shine!
Singing "Man in the Mirror" by Michale Jackson
Christina saved Josh. She said she thinks America will see what she sees in Josh. Josh was joined by back-up singers on stage to sing "Man in the Mirror."
After his performance, coach Christina said, "It's your emotional playground to explore everything that your voice can do. I think this was the perfect opportunity for you. Great job!" Adam wasn't too critical. He said, "It was a great song. It made me smile. I wanted you to come out and see the front more. That was about as critical as I can be."
CeeLo told Josh, "You continue to impress me. You're an amazing vocalist. Tonight's performance was much improved."
Blake said, "I think had you had done a performance like that last week, you would not be in the bottom thought. That allowed the song to shine. When you allow the song to shine, you become a more interesting artist."
Watch Josh Logan Sing "Man in the Mirror" HERE
TEAM ADAM
JAMES WOPERT
Stock Broker Turned Rock Star!
James said about his experience so far on The Voice, "If this is a dream, I want to stay asleep as long as I can."
Singing "Mr. Brightside," by The Killers
Adam said it was a rock star quality performance "Every single second of that is kind of dynamic and a blistering performance. You just turned into a rock star right in front of our eyes. Unbelievable!"
Christina said, "I'm so proud of you James. I've seen your growth and you taking your coaches notes. I was nervous for you at first because of that song. The more instruments that are playing the more excited you get and run the risk of getting pitchey. You did a great job."
CeeLo commented, "I have nothing to complain about. It's right down my alley when someone knows how to control and demand the stage."
Watch James Wolpert Sing "Mr. Brightside" HERE
TEAM BLAKE
AUSTIN JENCKES
Austin said he's waiting to get financially stable before marrying his girlfriend. Blake said the key of a country artist is to get people to believe that they feel what they're saying. "Austin sings with so much power that he needs to explore different notes sometimes," said Blake.
Coach Blake responded to Austin's performance with, "You are so solid every time you get on stage. Every single time. The thing about you doing a country song, once the country audience embraces a country song, they don't expect an artist to go country, they just embrace the song. You're the one guy on the show that everybody wants to sit down and have a beer with."
CeeLo said, "I think you did a great job. I like that added twang that you put on there." Adam was impressed with Austin's pipes, "We haven't' talked about that big note that you hit. I can't believe the precision. I'm a fan of yours." Adam told CeeLo that he looks like Zorro.
Christina simply said, "It just felt good. You keep it real."
Watch Austin Jenckes Sing "It's a Great Day to Be Alive" HERE
TEAM CHRISTINA
JACQUIE LEE
Setting the Stage on Fire
Singing "Love is Blindness"
Jacquie is the youngest artist in the competition this year. Christina said she wants to do something new and current. "The strategy this year is that she can be cool and current and she can take this competition," said Christina.
Coach Christina said about Jacquie, "You set the stage on fire. I chose songs that have vocal depth. You have to have a depth and range that is somewhat beyond your years."
Adam responded, "You really continue to impress all of us. It's amazing because the second you opened-up it kind of cuts through this way. Anyone who wins this competition, their voice has to do that. It was pretty beautiful!"
CeeLo said, "I love the way you make me feel. I forget to think, I forget to clap. I forget to look around. You make me get lost in it."
Watch Jacquie Lee Sing "Love Is Blindness" HERE
TEAM BLAKE
RAY BOUDREAUX
Blake said he still thinks Ray can "win this thing." He said "Let's apply Ray Boudreaux to John Legend."
Blake said about Ray, "For you to sing a song like this, It's going to destroy women's lives. If he can dig inside and find the confidence for this, there's no stopping him," said Blake.
Blake said he "got wrapped-up in that." Blake went on about Ray, "That's really weird, but Ray is sexy. If you were ever worried about making a connection and stepping outside your zone. I think we should do that."
Christina noted Blake fondness of Ray, "He has quite the crush. The women were loving it, Blake was loving it. Blake was getting his panties in a bunch. Vocally, you did fall a little short in some places and heard a few cracks and pitch."
Watch Ray Boudreaux Sing "All of Me" HERE
TEAM CEELO
KAT ROBICHAUD
She's Like an Antelope!
Coach CeeLo said, "This song "Sail will showcase the dynamic performer that she is." He also coined, "Kattitude."
Coach CeeLo said "I love that record because it's hard. When art imitates life were talking about a different variety of music. Sometimes life is painful and this song reflects pain. But its a song that speaks on the pain. But music is healing. its a very ironic opportunity. I think you did it!"
Blake was impressed by her fall, "I love watching it I love being entertained by you. She's like an antelope. She fell over and I thought there was no way she could sing through that, but she sang through it."
Christina said, "Kat came to play today. The opening, arms out. You were in character. I love this because we get one step closer to the artist that you are. I love the darkness."
Watch Kat Robichaud sing "Sail" HERE
TEAM CEELO
JONNY GRAY – (Eliminated)

Singing "Another Day in Paradise"
I chose this song because Jonny sing with emotion but he has to commit to the audience. Jonny said, "I can really relate to this song because growing up, I didn't have a father." He said that his mother is his hero.
I think that they got the point. I'm ready for you to become a star. I'm ready for you to write your own music. I think we have an important power, cause to entertain and to empower. – CeeLo
Adam – Sometimes as musicians do, the syncs were a little off from the clapping. There were some rhythmic issues, but you brought it through. You didn't get thrown off.
Watch Jonny Gray sing "Another Day in Paradise" HERE
TEAM ADAM
TESSANNE CHIN
Singing "My Kind of Love"
If she does something more fired-up, she'll really blow it away. Tessanne said she's singing the song to her husband when she "hits that stage."
"You've got a Godliness to your voice," said Adam. He said others that have that are Christina Aguilera, Whitney Houston. He said it's a "Grammy winning voice".
Adam was blown away, "I said it before, I'm going to say it again. Regardless of what anyone thinks. This woman comes out here and sings so emotional and flawless. It's so consistent that the bar is so high for you. It's called 'the voice', you've got it. Sometimes the raw quality doesn't come out."
Christina said, "that was beautiful. There was a lot of passion in that. There was a really cool weaver effect on your vocal. I was feeling a few different things. Your voice is so amazing. You came into the end, your own vocal power. It was lovely.
Watch Tessanne Chin sing "My Kind of Love" HERE
TEAM CHRISTINA
MATTHEW SCHULER
Singing "Halluelujah"
It's really important for me to get back to Matthew's roots. He said the song will help "showcase his voice's delicate parts."
Coach Christina said she asked for a fearless performance." She noted, "There's something so magically. The applause. You make people feel so special. Its' so rare and it's such a gift. I appreciate you and I'm very happy that you chose me as your coach."
Blake was impressed, "This time last week I would have told you that Jacquie was the front runner on your team. He said now its Matthew
It magically its' powerful."
Adam changed clothes. He said he matches more now in his black T-Shirt and black leather jacket. It's one of the best songs ever written. Every time someone sings that song, I have my doubts. I'm happy to say you really preserved the legacy of that song because it was really beautiful.
Watch Matthew Schuler Sing "Hallelujah" HERE
TEAM BLAKE
COLE VOSBURY
Blake was excited that Cole is there, "I ended-up with a guy that could win this whole thing. He has a unique stamp." Cole said he's lost a lot of family members. His sister got killed in a car accident when she was seventeen years old. Blake said he gave him R&B song "Adorn" by Miguel because he wants people to expect the unexpected with Cole.
Blake said, "Every time Cole gets on the stage it's like he brings a gun to a knife fight. It's more. He squashes you. It's like everything you do, it's like gosh almighty. You blow me away man. You have a way of taking things and covering them but somehow making them your own, and destroying what you can do with a song."
CeeLo said, "I'm very excited for you. I picked Cole alone in the Blind Auditions. No one else turned around. Great job dude!"
Watch Cole Vosbury Sing "Adorn" HERE
TEAM ADAM
WILL CHAMPLIN
Singing "Demons"
Adam saved Will last week. Adam's advice was, "Will needs to do something more bold. In a weird way, you have a really good advantage. You still have that chance to have that moment. That's why Demons has to be "lights out," said Adam to Will. "If he does the right thing at the right moment, the sky's the limit" said Adam about Will.
Adam said, "Will, you said. (Pausing for the screams from the audience)..obviously, these guys love you! I think you said something really cool – you love music too much. If you want to succeed in this difficult side. It's hard, you need to love it way too much. You can feel that passion in what you do. It was really passionate and that's what I want on my team. I love that you're still here."
Watch Will Champlin sing "Demons" HERE
After Tuesday night's The Voice live show, The Top 12 will turn into The Top 10. The Voice viewers can use a new feature this year called "Instant Save" by tweeting for their favorite artist!
LIVE SHOW NIGHT TWO RECAP – ELIMINATIONS

After a quick recap of last night's top 12 performances Tuesdays night's show opened with a live performance of Sara Bareilles who sang her new song "Brave" with The Voice female contestants Tessanne Chin, Kat Robichaud, Jacquie Lee, and Caroline Pennell.
The coaches talked about losing control. Christina tried-on CeeLo's futuristic sunglasses, then Adam tried them on. They joked that
"Tuesdays are why Blake drinks so much!"
The first save of the night was from Team CeeLo – Caroline Pennell. The second save was Team Christina's Matthew Schuler.
The second performance came from Team CeeLo and himself that included: Jonny Gray, Kat Robichaud and Caroline Pennell who sang "Roam".
The third save was announced. It was Austin Jenckes from Team Blake. The fourth save of the night was Team Adam's Tessanne Chin.
The next performance of the night came from a mixed bag of Teams that included: Cole Vosbury, Will Champlin, Matthew Schuler, Jonny Gray, Ray Boudreaux Austin Jenckes, James Wolpert, Josh Logan who all sang "We're an American Band."
The fifth save was Jacquie Lee from Team Christina. The Sixth save was Team Blake's Cole Vosbury. The seventh save – Will Champlin from Team Adam.
Another performance came from Team Adam whose artists include: James Wolpert, Tessanne Chin and Will Champlin who sang "A Hard Day's Night".
The eighth save of the night was revealed to be Ray Boudreaux from Team Blake. The ninth save was James Wolpert (a.k.a. "the stock broker") from Team Adam.
Soon after, the first ever Voice "Instant Save" was given to the artist with the most twitter mentions in five minutes. This applied for the most Tweets out of the remaining three contestants who were: Josh Logan, Kat Robichaud, and Jonny Gray. The first eliminated was Jonny Gray. The second eliminated was Josh Logan. The Instant Save went to Kat Robichaud from Team CeeLo!
UP NEXT – Check out all the highlights from THE VOICE Season 5 Episode 15 in our article Breakout Moments On THE VOICE – Live Shows Week 3 Recap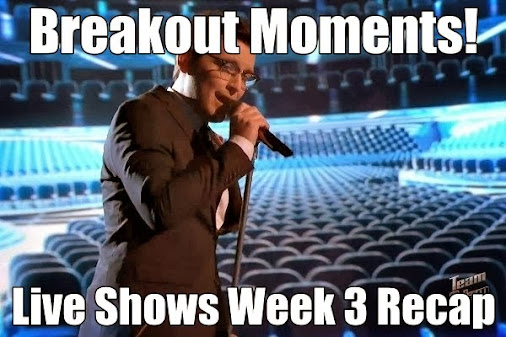 CATCH UP – Check out all the highlights from THE VOICE Season 5 Episode 13-B and Episode 13-C in our article Three Hearts Just Broke! THE VOICE – Live Shows Night 2 and Eliminations Recap!