The Top 10 contestants on The Voice this week had their family attend their coaching sessions with their coaches. Christina introduced some yoga exercises this week to help get them "centered" and ultimately increase their vocal strength. The Top 10 performed together at the opening of the show, making it their last performance together before they lose another two singers, making it the Top 8 with the results of the eliminations on Tuesday's show.
TEAM BLAKE
AUSTIN JENCKES (Eliminated)

A Slow Build
Blake said to Austin – "This could be your breakout moment said Blake to Austin. Blake gave Austin "My Love" by The Outfield to sing. "I think It's time to show America that he does have the pipes," said Blake.
Blake was happy with Austin's scaled-down performance and said, "Pulling back the reigns a little bit and letting it go when it's time. It was at the end of the song. It's awesome man!"
Christina said, "If you were working on a slow build to a huge climatic, you really did that. Nice job." Adam said, "I love that song. I love you, I love what you do. Your range is so amazing. The gravely tone in your voice. It's almost as if, to me I wanted to hear that more early on."
CeeLo told Austin, "you are one of those people that I enjoy being a fan. I didn't know that you have that range. It's so impressive to watch you hit that note. So impressive."
A Jamaican guest visited The Voice set and said everyone in Jamaica everyone is going crazy figuring out how to vote for Tessanne Chin.
Watch Austin Jenckes Sing "Your Love" HERE
TEAM CHRISTINA
JACQUIE LEE (Top 8)

Just So Special
Christina helped Jacquie "get more centered in her body," with some yoga lessons by a professional. Jacquie sang singing "Clarity" by Zedd.
"Her chance to let her voice speak for herself and hear her falsetto. The most importing thing is to show them your vulnerable side," is what Christina told Jacquie.
Coach Christina reacted to Jacquie's performance with, "It was so lovely and I love seeing you in that setting. We've seen such dynamic settings. It was so emotional and so gorgeous." Christina thanked the backup singers as well. She told Jacquie that she is just "so special."
"You're one of the best that we have. There were a couple of moments early in the song. That anger that you get to have really works for you. It was a little un-nerving at the beginning, but it worked," said CeeLo.
Blake told Jacquie at the beginning of the song he agreed with CeeLo. "By the end of the song, you started doing that Jacquie thing that we love."
Adam wrapped the review up by saying, "To show so much grace at your age is really commendable. Great job."
Watch Jacquie Lee Sing "Clarity" HERE
TEAM ADAM
WILL CHAMPLIN (Top 8)

During family week, Will said having his wife and kid there has been overwhelming at times, but he's glad to have them there.
He sang "Love Me Again" by John Newman because it will show his vocal range, Adam said. "The challenges in the song are the key moments and the end," said Champlin. "Any kind of slip-up can X me out", said Will about his performances on The Voice.
Coach Adam was proud, "That's such a great song first of all. That's where it stats. You have been passed around a lot. It's been kind of a yo-yo for you. If this guy isn't a testament why you should hang in there and keep trying." Adam said he thinks this song is in Will's wheelhouse. But, Will has done better with other songs.
Christina said, "You're a good person too. It's good when you get the full package. I feel that you came into your own on this performance. It was good."
Blake told Will, "You're such an accurate vocalist that's what continues to blow me away. Man, I really think you're great. And I can't believe that your on Adam's team because I hate him!"
Watch Will Champlin Sing "Love Me Again" HERE
TEAM CEELO
CAROLINE PENNELL (Top 8 – Instant Save!)

CeeLo said, "I love Caroline because almost effortless she marries performing with poise." She sang "Leaving on A Jet Plane" by John Denver.
Caroline picked this song because she said, "I grew up with this song, at camp." CeeLo said the meaning of the song is bittersweet for him because he wants her to fly and leave.
Coach CeeLo said, "Nothing makes me happier than to make you happy. It's the grandest opportunity to do just that. I feel so connected to you. I am pleased about letting go and allowing you to lead yourself. The only thing I can say is technically you are consistent in the quality of your character and performance. That song seemed like it was going to over power you." He left it off by saying he'd like to see Caroline open-up more with her vocals in future performances.
Adam said, "This was really great for me because I got to see you making a statement. Staying true to what you want. The emotional journey that you're going through and portraying that in a song. You showed everyone your great time in the sun."
Watch Caroline Pennell Sing "Leaving on a Jet Plane" HERE
TEAM BLAKE
COLE VOSBURY (Top 8)

Breaking Hearts!
Blake said, "Cole's one of the most creative people we've had on the show and I want him to continue to break the mold." Cole sang rock song "To Be With You" by Mr. Big. "This is the perfect move because event though it's a love song, it's easy to sing along," said Blake and that "it's a guitar song." Blake is expecting that the girls will be into Cole singing and playing his guitar with this song.
Coach Blake said, "Just makes me so happy. How do you not love this dude? It's impossible to not love this guy." Blake noted that the girls in the audience were into it. "More importantly you sang the daylights out of that song and did all the Cole things. This performance was about you! You nailed it to the wall!" Blake pretty much said that this performance solidified Cole going all the way in The Voice competition.
Adam observed, "It's a smart move. I like seeing you on keys, I like seeing you on guitar. That's such an acoustic song. I feel I haven't heard that song enough in my life. You broke my heart when you went on his team. I'm going to love you regardless."
CeeLo commented, "I like Cole. I'm really glad and really happy that you've come this far. I genuinely support you The evidence is there with your openness. In singing out loud and living out loud." CeeLo noted that that backups look like "American Horror Story" The Coven!
Watch Cole Vosbury sing "To Be with You" HERE
TEAM ADAM
TESSANNE CHIN (Top 8)

Her husband said when Tessanne was struggling with her music career, he said, "What is it going to take to get her to that next level" before she go on The Voice.
She sang "If I Were Your Woman" by Gladys Knight and The Pips. She said the song was kicking her ass, and she has to kick it back. Tessanne said she'll try to give it a Jamaican twist.
Coach Adam said, "It's cool because I don't believe that anyone's ever done that song on this show before. Gladys Knight, that's some serious stuff. What a song and what a lyric. It's really easy to understand what the song conveys with your voice. It was solidifying your place on this show as a major, major contender."
Christina told Tessanne, "what's funny is I heard your Jamaican accent come out in the beginning and I love that. I'd love to hear more of that. You are a singer that can do so much. I'd love to hear you do more things, more dimension. Because you are so good..more different elements of you because I know that it's in there."
Watch Tessanne Chin Sing "If I Were Your Woman" HERE
TEAM BLAKE
RAY BOUDREAUX (Top 8)

Ray sang "You Are the Best Thing" by another Ray, Ray LaMontagne. "Ray said, "This song connects with me because I found love and I had a second chance. Blake advised him, "Don't assume that everyone knows the words to this."
Blake said, "That was awesome! What you did last week is your rattled everyone's cage. You brought it back to what you do. You have to be somebody that grew up with that music to nail a vocal like that and you did it man!"
Christina said, "I love seeing all the brass and all the horns behind you. I thing out of everyone here you've shown the most growth. I really feel like you found an identity that fits you – soul and blues."
CeeLo's response was, "I agree with Christina. It's suppose to be real, it's suppose to be sincere. I like that." Adam told Ray, "I also like you Ray. You've been one of the more solid vocalists in the competition. There were moments where you didn't seem as checked-in as you could have been."
Watch Ray Boudreaux Sing "You Are the Best Thing" HERE
TEAM ADAM
JAMES WOLPERT (Top 8)

The James Wolpert Blender!
Last week Adam said James turned into a rock start right in front of everyone. Adam said every week he wants to keep James surprising everyone. James dropped out of college and he said his Mom was not proud of him.
James sang classic song, "Without You".  Coach Adam said, "That song – that is one of the hardest songs. One of my favorite songs in the world. I love the fact that you came in here with all the things you've done. You manage to take a song and it goes through the James Wolpert blender. You have such an individualistic approach to everything that you do."
Christina commented how dapper James looked and called him Great Gatsby. She said she loved his song choice. "Your voice is always clean. You can supply a cool rasp if you wanted to, or you can fly clean. You are dimensional. That is a very challenging song as a singer. She said he did it "effortlessly."
Blake – Said the production has to get a budget for the second half of that mic stand. Adam said, "That's cool..that's Freddy Mercury…I will kill you!" Blake said "Calm down. Vote for James."
Watch James Wolpert Sing "Without You" HERE
TEAM CEELO
KAT ROBICHAUD (Eliminated)

It Lives Forever!
Kat sang "We Belong". Kat said about the song, "It has sweeping moments and lend to showing a more vulnerable side of me."
"We need something like a bitter ending," said CeeLo. He had one of the top choreographers in the business show Kat some moves. She's coached Shakira. CeeLo said, "I do not want you in the bottom three again."
Coach CeeLo told Kat, "I'm so proud of you. To see what it's become. To see it realized and completed. It's so excelerating to see what you are capable of and to see people witness you. I think we've done everything right. What you did tonight, It lives forever, it's immortal."
"To be totally honest. I thought there was some struggle in the middle (in past performances). But not in this performance. This was finally the Kat we were all waiting to see," said Adam.
Watch Kat Robichaud Sing "We Belong" HERE
TEAM CHRISTINA
MATTHEW SCHULER (Top 8)

No Less Than Amazing!
"Matthew has proven that he can do anything," said Christina about Matthew. He sang "Beneath You're Beautiful." Christina advised Matthew that while singing the song, "Be that guy that every girl wants to fall in love with." Matthew said he'll be thinking about his future wife when singing the song. Christina said he needs to be able to soar every week.
Christina said (After the howling of the audience was over) "Wow, yes.. we love him! I hope you take in all of this. This room every single time after your per you bring a buzz and excitement in the room. You blow me away. You're so connected. You did show a different side of yourself."
Adam said, "Yeah, finding that future wife. Not going to be a problem for you. Listen I got up in my chair to get you to be on my team…
No less than amazing is what you always are!"
Watch Matthew Schuler sing "Beneath Your Beautiful" HERE
WATCH – THE VOICE Season 5 Episode 15-A "The Live Show Eliminations" originally aired by NBC on Monday, November 18, 2013.
NIGHT TWO – TUESDAY'S ELIMINATION SHOW
At the beginning of Tuesday's Eliminated show, Blake expressed his confidence in his team and said, "Team Blake is well on it's way to its fourth win!"
Jacquie, Matthew, joined their coach Christina Aguliera on The Voice stage to perform Michale Jackson's "Bad".
When host Carson Daly asked Adam about his team, Adam said, "We still have our best to show. I still believe they are going to put on their best performance yet to come." CeeLo said that he's not sure about what kind of an advantage having strong women left on his team gives him. He said they are giving each contestant a "solid run for their money."
Christina said about her performance with her artists Jacquie and Matthew – "It would not have been so much fun if they had not brought to the stage what they've learn. They are just really special. They have a career beyond this show." She also reminded viewers to vote for them!
Carson Daly told Blake he was sorry for him not getting "Sexiest Man Alive" title given to Adam Levine by People Magazine. Blake said Adam is stealing some of his thunder and he thinks Adam is sexy on the inside.
Blake said about his team, "We've got a group of people so talented that they can almost get away with anything. He said he just stays out of their way.
The first two artists that were announced as "safe" and moving-on to next week's live show are Team Adam's James Wolpert, and Team Christina's Matthew Schuler.
Singing "Sugar We're Going Down" was James Wolpert, Will Champlin and Kat Robichaud. After their performance, the remaining artist came out onto the stage to hear the names of two more artists saved by America's votes. They were Team Blake's Ray Boudreaux, and Team Adam's Will Champlin!
The next performance was from Team Blake – Austin, Ray, and Cole singing "Sharp Dressed Man" by ZZ Top. The names of artists announced as being safe were Tessanne Chin from Team Adam, the last in his team to complete his whole team as safe. America also saved Jacquie Lee as moving one to next week's live show. Her full team of two also remain as safe!
Caroline and Tessanne sang "Royal" Cole Vosbury was announced as safe
THE BOTTOM THREE:
Austin, Kat and Caroline were in the bottom three. It was Kat's second week in a row of being in the bottom three. Team CeeLo's two artists both Kat and Caroline . CeeLo said they've done an exceptional job and hopes America votes. This guy lives and breathes music. I don't know a more passionate vocalist. I take one hundred percent of the responsibility for Cole being int he bottom three and he said he will "fix that."
INSTANT SAVE!
When Daly asked for Adam's opinion about the bottom three, Adam said he's expressed his love for all three artists week after week and doesn't know what America is doing. Christina commented, "Just by being here and open for criticism, you guys have won." Daly then revealed which artist received the most votes via Twitter for the "Instant Save." America's Instant Save went to Caroline Pennell who will now be part of the Top 8 contestants performing live on The Voice next week.
WATCH – THE VOICE Season 5 Episode 15-B "The Live Top 10 Eliminations" originally aired by NBC on Tuesday, November 19, 2013.
UP NEXT – Check out all the highlights from THE VOICE Season 5 Episode 16 in our article Nothing Not Dynamic Top 8 THE VOICE – Live Show Week 4 Recap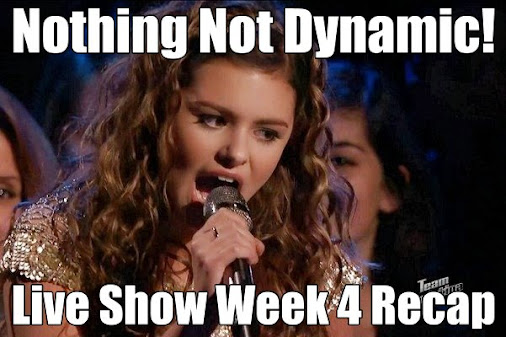 CATCH UP – Check out all the highlights from THE VOICE Season 5 Episode 14 in our article A Dark Night On THE VOICE – Live Shows Week 2 Recap!