"The Voice' coaches CeeLo Green, Christina Aguilera, Blake Shelton and Adam Levine have come close to the end of the road for Season 5 of Blind Auditions with only a few spots left per team. Christina is back and on top of her game. She said, "Discovering talent is an exciting thing to be a port of," and "It would be amazing for a female to finally knock out these boys." Blake, of course, wants a fourth win of his own and admitted, " I have one job and that's to win." The coaches all only have a few spots left to fill-up their teams. First up to audition was Matt Cermanski.
MATT CERMANSKI – Team Adam
Matt is a young 20-year-old who is back on 'The Voice' for a second time. He first auditioned singing Katy Perry's "Teenage Dream." Matt said it wasn't his best performance. Since his first Blind Audition, Matt has been working on finding himself as an artist by playing more gigs and taking vocal lessons.
During Matt's second audition, Adam turned around from the start, followed by Blake. CeeLo also got in on the action. Adam said they didn't pick him last time "because it was weird" when he was singing "Teenage Dream". Blake noticed "at some point in the song you were playing around with the falsettos. That's the type you want on the show." Adam told Matt "that's a great song. I'm glad that you're back again." Adam said they belong together and he's made a huge improvement. Blake said he thinks Matt can "win this thing." Adam asked Matt if he was Country and Blake said he's shown that he can win with anything. Matt chose Adam for his coach. Adam called Matt "most improved player."
Watch Matt Cermanski sing "Have a Little Faith in Me" HERE
DIEGO ROMAN NAVAIRA – No
Singing "Rebel Yell" by Billy Idol
He was born into a family of musicians. His Dad Emilio and Selena, Diego said are credited for bringing Tuhegol music to America. Deigo self produces his music with his band. He wants to learn from the coaches on 'The Voice' and be able to "create a career."
No chairs turned around. Blake said "Gosh dang he was good." Adam said he has to be "stupid picky" because he only has one slot left. Blake said "I don't know what the hell I would have done with you." Christina said, "We're just being really choosey at this point." All of the coaches thought that CeeLo should have pushed his button. CeeLo said Diego is just not what he's looking for right now, but liked his song choice.
TAMARA CHAUNIECE – Team CeeLo
Tamara is 23-years-old. She sang in church when she was a little girl and had her first public performance at age seven. After turning eighteen and not having her big break, Tamara became a leasing agent and temporarily gave up on her dream. Her foundation is gospel music but would like to have a broader audience which is why she is auditioning for 'The Voice'.
Christina pushed her button first, then CeeLo. Adam told her she has a beautiful voice. CeeLo commented, "It was gorgeous and so are you. Not too much of anything." Christina said, "I loved it, you touched my heart." Christina told her she started singing at age eleven too. Pointing-out a common-ground with Tamara, CeeLo told her his parents were also ministers and he became a sinner. Tamara joked "Come to Jesus." CeeLo said "Jesus is pretty!' In all seriousness, CeeLo told her "You seem like a really strong woman and I'd like to work with you." Her gut told her to go with CeeLo. That left CeeLo with only two spots on his team.
Watch Tamara Chauniece sing "1 + 1? HERE
Brandon Chase – Team Blake
"Wanted"
An exceptional 20-year-old Brandon Chase from Arlington, Texas, said he has sang a lot without payment because he's an unknown artist. He was born very sick and his mother said she is thankful that he has his music. Brandon said he's on The Voice because "The Voice is such a special opportunity. Not one that everybody get but one that everyone wants and hope to fulfill his destiny.
Blake turned his chair for Brandon. CeeLo decided to jump-in and pushed his button too. CeeLo said "I can offer advice, dance, and flair. I don't know about Blake." Blake quickly took offense, but asked Brandon, "Do you want to be a country singer? Country music is something you can't fake. It's in your blood to be a country singer." CeeLo tried to prevent Brandon from going to the country side and said, "I didn't know it was a country song. It struck a chord with me." Adam joked and told Brandon, "you should choose the coach based on who you'd rather be dressed like right now!" Brandon was wearing a plaid shirt like Blake. Brandon said he is going with his heart and chose Blake. Brandon said Blake was the one coach that he wanted to turn around the most.
Watch Brandon Chase sing "Wanted" HERE
LUPE CARROLL – Team CeeLo
Singing "If I Were a Carpenter"
A flower deliveryman, Lupe Carroll said "Delivering flowers is kind of like ice cream coming down the street" he said because it makes people happy. He's been performing at restaurants and Farmers Markets. Lupe said he married his best friend and would like to do everything he can to make her proud. He's on The Voice because he'd like to stop playing late gigs and delivering flowers.
CeeLo was the only coach to turn his chair. CeeLo asked the audience how many people enjoyed Lupe's voice. They all cheered and applauded. "I may be a little crazy but I'm not stupid. You sound damn good!" When Lupe told Christina what he does for a living, she said, "That is so cool to earn your living like that and to come out here on the show. How cool that you have CeeLo to be your coach."
CeeLo said for his last spot he's looking for someone to take a chance.
Watch Lupe Carroll sing "If I Were a Carpenter" HERE
GREY – Team Adam
Singing "Catch My Breath" by Kelly Clarkson
Grey is 25-years-old from Jacksonville, Fl. She's been singing since she could talk. Grey said she used to pretend sing to the vacuum cleaner. Grey currently sings in a wedding band. As time goes on she said, her dream goes "further and further away." She currently Works at the retail store Apothecary. She sees herself as a touring recording artist. "I don't think any other audition I've done will compare to this audition."
Adam pushed his button for Grey first. Blake then pushed his button soon after Adam. Blake got angry when CeeLo turned his chair toward the end of Grey's audition. Blake's chair broke and turned back around. Blake told Grey "I did a 360 for you!" and told her, "I think you have what it truly takes to win this thing. I'm looking at what these other coaches have to offer you and it seems like a dead end."
CeeLo said she sang just enough – "I thought it was matter-of-fact, plain and simple, accommodating. I think you're voice is perfect." Christina told Grey, "I think these boys are extra hungry for the win. As the song kept going on, you kept getting better. Maybe I missed out but there's always the Knockout Rounds." Adam said, "The fact that you have gotten through this and survived, I would like to steal you away from these guys."
She said she grew-up singing country, but still chose to be on Team Adam. Adam said "Grey is awesome." and the fact that she held up well under pressure, he thinks she'll do incredibly well in the competition. Grey completed Team Adam.
Watch Grey sing "Catch My Breath" HERE
TEAM ADAM:
Donna Allen, Nic Hawk, Tessanne Chin, James Wolpert, Will Champlin, Justin Blake, Barry Black, Ashley DuBose, James Irwin, Preston Pohl, Matt Cermanski, Grey
Adam said about his team, "There's more to me than the Pop side and I can take them to the promise land."
DOMINIC SCOTT KAY – No
"Easy" by The Commodores
Dominic is 17-years-old. He said around eight years old, he knew he wanted to do music more than anything in his life. He did his first movie at four years old with Neal McDonough (Desperate Housewives star) who was at his Blind Audition to lend support.
Dominic said he wants to do music. He's dad is the drummer of The Commodores band which Lionel Richie was the vocalist. Dominic went to his first concert at 12 days old. He said there's added pressure to doing a Commodores song for his Blind Audition. "I really wanted to do it myself" he said and not use his connections in trying to make it in the music industry.
No coaches pushed their buttons. Adam said, "You've got something really cool. That's such an amazing song to choose." When Lionel sings it , he's got longer notes." Blake gave him some advice, "Open-up your voice a little bit more. You don't want to get too nasally." Dominic later reacted, "I've got some amazing advice and that's worth more than gold."
MICHAEL LYNCH – Team Christina
Singing "Balamis" by Enrique Igesis.
Michael brings an unusual flare to 'The Voice stage. He's 27-years-old from Chicago. He described his style as Pop with Latin influence. He went to a music school and made some connections. But, is currently landscaping during the week and singing on the weekends. "I'm not trying to be something that I'm not by singing a song that has Spanish in it."
Christina who was looking for one more guy on her team, couldn't resist with the first few notes of Michael's singing and turned her chair, soon followed by Blake and CeeLo. Blake was taken be Michael, "Your pitch is so amazing… your so rhythmic . You have a lot of talent. You have a cool vest. I'm a fan. I'd love to have you on my team." CeeLo was surprised by Michael's look and reacted, "Damn I just knew you were going to be Latin." Michael said he's 100% Irish. But want's to be able to use Spanish and English in his music like Enrique and like Christina. Christina told him, "I love it when something starts out A Cappella then builds from that like Michael Jackson." Christina told him, "I'm half Irish too. My father is Ecuadorian." CeeLo told Michael, "I'm half amazing."
Blake said, "Damit I can't speak Spanish. I can't dance the Salsa, but I can win this frekin show. Join team Blake." Michael went with Christina. With the addition of Michael Lynch on her team, Team Christina was full!
TEAM CHRISTINA:
Matthew Schuler, Josh Logan, Jacquie Lee, Amber Nicole, Timyra-Joi,&nbsp, Destinee Quinn, Olivia Henken, Michael Lynch, Lina Gaudenzi, Brianna Cuoco, Stephanie Anne Johnson, Jacob Poole,
Christina said, "After taking last season off it would be incredible to come back and win The Voice."
Watch Michael Lynch sing "Bailamos" HERE
DEANNA JOHNSON – No
Singing "Stars"
Deanna is a young 17-year-old from Georgia. Growing-up in her small town, she said there's not a lot of places to sing. This leaves her with church and rodeos. Her music of choice is Pop and R&B. She said her Dad got her a karaoke machine when she was little. "I love that I get a chance to work with the biggest names in music. Everybody wants to be remembered for something."
Adam told Deanna, "That was really interesting. It was really different. There were some things, strange but there's a lot to work on. Christina said, "we were all struck by the interesting tone of your voice. That's something that you want to have – unique and special. Take advantage of higher moments for your self."
CeeLo said, "I'm being very critical. Your voice sounds so different than what you look like. That's a contrast that would have been cool in my world." Deanna smiled at that compliment. Blake saw a winner in her and said, "I think you're not more than eight months away from wining this show," and told her to come back next season. During a post interview, Blake said, "I have one spot left, I m looking for something that blows me away." CeeLo is looking for his number one.
BRIAN POUNDS – Team Blake
Singing "Wagon Wheel" by Old Crow Medicine Show
Brian is 24-years-old from Austin Texas. He wanted to be a pro baseball player. Then he said he wanted to concentrate on playing the guitar. "I learned two songs, then three and it captivated me. I played bars and restaurants. I was never so happy to be so broke." Brian said because of it, "You definitely have those moments of self doubt" and he said he's given up a lot of opportunities up in his life to do this. "all I need is an opportunity."
The other coaches were pressuring Blake to push his button. Finally, he did. CeeLo then turned and Blake yelled at him "Why did you do that!" Brain said to Blake "It is really good to see YOU!" CeeLo lowered his head in defeat "Country music is about telling stories. What a great freakin' sound this guy has," said Blake. Christina played Devils Advocate for CeeLo and against Blake, "I know it's hard. I will say, CeeLo has such an incredible way of taking an artist and opening their head." Blake told Brian, "I'd hate to see you be experimented with."
Brian made his decision "I got to keep it country, I got to go with Blake". With the addition of Brian, Blake's team became full.
Watch Brian Pounds sing "Wagon Wheel" HERE
TEAM BLAKE:
Shelbie Z, E.G. Daily, Austin Jenckes, Holly Henry, Brandon Chase , Sam Cerniglia, Ray Boudreaux, Monika Leigh, Justin Chain, Emily Randolph, Chilla Chan, Brian Pounds.
I don't see why I can't win four seasons in a row. I think for sure I have a winner. – Blake
CeeLo is the only coach with one spot remaining.
Shawn Smith – Team CeeLo
Singing "Chicken Fried"
Shawn is a big 33-year-old guy from New York that towers over everyone. He's a singing bartender. In 2009 he enlisted in the Army. He did a tour in Iraq where during an accident, he lost 80 percent of his hearing.
CeeLo with his sights set on getting a country singer, took some thought into turning his chair for Shawn. Half-way into Shawn's audition, CeeLo finally pushed his button. Shawn showed CeeLo his belt buckle that says "Big Sexy". Shawn said he was the only one that brought his guitar with him into the Army. Shawn was thrilled when Christina told him he was the last spot for the whole show. During a post interview CeeLo noted his worthiness of having a country singer on his team, "I'm from Atlanta, Georgia. I was country before country was cool." Blake said this show needs a guy like Shawn because he's not afraid to "ham it up with the audience."
Watch Shawn Smith sing "Chicken Fried" HERE
TEAM CEELO:
Kat Robichaud, Caroline Pennell, Cole Vosbury, Juhi, Anthony Paul, George Horga Jr., Keaira LaShae, Lupe Carroll, Jonny Gray, R. Anthony, Tamara Chauniece, Shawn Smith
CeeLo said, "I'm glad to be back. I think I have the strongest team."
The Battle Rounds are next..
Cher will be Team Blake's adviser. Miguel will be Team CeeLo's adviser. Ryan Tedder is advising Team Adam, Ed Sherran is advising Team Christina.
Watch THE VOICE Season 5 Episode 5 – The Blind Auditions Part 5, originally aired on Monday, October 7, 2013.
UP NEXT – Singers from THE VOICE's first week of battle rounds in our article Dreaming With Eyes Open On THE VOICE – Season 5 Battle Rounds Week 1 Recap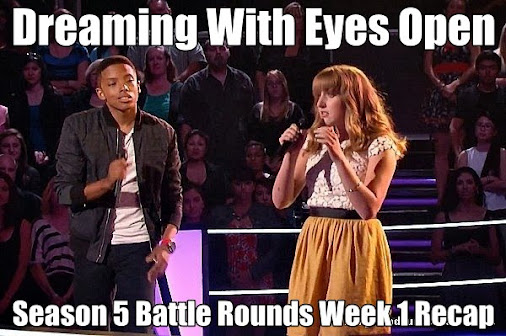 CATCH UP? – Check out the singers from THE VOICE's second week of auditions in our article Unpolished Diamonds On THE VOICE – Season 5 Blind Auditions Week Two Recap