NBC's THE VOICE Season 5 Episode 13a "Top 20" Team Adam and Team Blake – Recap.
"The Voice" coach Christina Aguilera opened night one of the Live Shows by performing with Flo Rida.

TEAM BLAKE
SHELBIE Z
Looking Smart In a Coma!
A post wedded Shelbie Z revealed to Blake that she wants to be an "all country artist." Blake was excited about that.
Singing "Fancy" by Reba McEntire who was Blake's Adviser during the shows first season.
Christina said Shelbie had a "Great performance," and she's always known she is a "powerhouse." Christina said, "It was such a fitting song. When you get on stage, you bring it home."
CeeLo told Shelbie, "You have to take those opportunities to color outside the lines. I think you did a good job of that and he also said she makes Blake's team "really strong," but hated to say it. Adam agreed, "We have no choice but to praise you. Something clicked with the way you perform. Your stage presence. We were all so attentive."
Blake said, "You command the stage. You just do. If I had been in a coma for the last five years and woke up and saw that, I'd think that you are a big country star. Thanks for making me look smart even when I'm in a coma."
Watch Shelbie Z sing "Fancy" HERE
TEAM ADAM
JAMES WOLPERT
Being a Geek and Awesome!
James initially got all four coaches to turn their chairs during his Blind Audition. Singing an acoustic version of Joni Mitchell's "A Case of You" Adam told James, "You have one of the best voices in this competition . Adam was impressed by James looks and skills and said, "James looks like a stock broker but can sing Joni Mitchell and Jack White. That's pretty amazing!"
Blake said, "Dude, you can't be a geek and be that awesome. It's impossible. I'm glad that you mentioned that last performance because before that I was on the fence about you." He complimented his confidence for performing a capella.
Christina expressed her thoughts, "I've always known that you have this incredible vocal range. What you were able to do is you really grounded yourself in this song." She said he drew people in instead of making it boring.
CeeLo was also impressed, "Good song choice. Your ability is an ironic that is undeniable."
Adam was a proud coach, "I'm so proud of you James. Blake referenced your mini-melt-down that you had. The fact that you bounced back. I knew you would. You came back and did something incredibly bold. I can't be more proud of you."
Watch James Wolpert sing "A Case of You" HERE
TEAM BLAKE
NIC HAWK
'The Flawk' Triple Threat!
Blake saved Nic from going home during the battles when Adam chose Nic's opponent. He says his fans are called "The Flawk", A combination of his last name and a flock. Nic sings "Blurred Lines" by Robin Thicke Blake said Nic is a triple threat because he can sing and rap.
Christina said, "That was a lot of fun! There was some singing in there? You were giving everything!" Nic said there was T.I. in there too. Christina said "You were multi-tasking."
CeeLo "Nic is one of my favorites. You have so much natural ability. That song has history with me. To just to everybody's part is really amazing."
Adam said he feels like an idiot for letting Nic go and it was "bittersweet…there's like 400 people singing on that song and you did everything in the song and the video."
Blake, "You did everything that you can do as a performer. It was unbelievable. You are the complete entertainer. I can't say it enough."
Watch Nic Hawk sing "Blurred Lines" HERE
RAY BOUDREAUX
Re-Introducing 'Swamp Pop'!
He grew up in a small town and is attempting to provide a better life for him and his daughter by being on "The Voice." Ray sings "Home" by Marc Broussard
Blake said he thinks Ray's performance is going to be the one of the night.
Christina said that was the most connected that she has seen Ray and that he brought a "kind of realness" she had not yet seen. CeeLo's reaction to Ray's performance was, "I love this grit and real. I'm really excited about how well everything's connected and how well everyone's performing under live pressure.
Adam was amazed at how well Ray was able to pull off the sound of Marc Broussard, "That guy has the grittiness, most gravily voice. You did amazingly well…very proud." Blake said "That was enough to continue to compliment you about that song. But this is a bigger deal. You're in a position to bring 'Swamp Pop' to a new generation. People that don't even know that song."
Watch Ray Boudreaux sing "Home" HERE
AUSTIN JENCKES
A Lot of Heart!
Blake said about Austin, "Austin has this way of sounding extremely passionate about what he's doing." Austin said when he went back home there was a street closed-down to honor him. Austin is singing "She Talks to Angels" by The Black Crowes
Christina reacted, "You sing with so much heart. It was absolutely great." CeeLo said "You are one of my favorites from the beginning. We have the best crew, the best talent!"
Adam said, "She Talks To Angels one of my favorite tunes. The only thing I was confused about – you ride scooters, but you don't ride Harleys." He offered to take Austin on a ride with The Voice host Carson Daly who owns one.
Bake said, "It takes a confident man to ride a moped. Its one thing to think a note and sing it. but its another thing to sing it with heart like Christina said. You're going to give me 150 percent every time. Your heart just lays out on that stage."
Austin Jenckes sing "She Talks to Angels" HERE
TEAM ADAM
Grey
Not Leaving the Door Open!
She used to "gig" at night and work retail during the daytime hours. Adam said Grey is the one to watch out for. Grey's dad used to work construction during the day and play gigs at night.
Adam is trying to get her out of the "wedding singer" like style of singing. She is singing "Still Into You" by Paramore.
Blake "I'm going to be honest with you. I was watching the battle. I said you left the door open for that guy and I was saying anything I could to make Adam get rid of you (it didn't work). You're awesome Grey. You really are."
CeeLo said, "Great job tonight. One thing I enjoy about the show is discovering. I like the feeling when a song is unfamiliar to me and you sing it as if it's your own."
Adam was thrilled that Grey is on his team, "We were trying to get you to this place where you would own the song and get out of the wedding singer mentality. Seriously, Grey I couldn't be prouder. To bring everybody into your world and I'm glad we accomplished that."
Watch Grey sing "Still Into You" HERE
WILL CHAMPLIN
A Very Special Gift
Adam stole Will back from Christina last week. Will was performing in Casinos and hotels before The Voice. Adam said he loves how talented Will is without being cocky. Will is singing "Secrets" by One Republic.
Ex coach, Christina said, "I have a special fondness for you when you were on my team for a second. You definitely put your soul and heart into it.
CeeLo – "I have been enjoying this opportunity. Everybody is so great. Will you're really impressive. Very dynamic, very definitive performance. "
Adam said, "You've been bouncing around like a yo-yo. You deserve to be here as much as anybody else. You're an incredible keyboard player. You have a very special gift!"
Watch Will Champlin sing "Secrets" HERE
PRESTON POHL
No One As Unique!
He is with a Christian rock band.
"Being on the voice has brought new life back into me." His Dad had cancer one year ago, but is now cancer-free. "Preston is in the business of making something his," said Adam. He's singing "Nothing on You" by B.O.B. ft Bruno Mars.
Carson Daly had to take a second of live television time to say something to Preston – "You sing like it's the last time you're going to be on the stage."
Blake was almost speechless after Preston sang, and said, "The pocket and your pitch…there's going to be people going home on Thursday that have no business going home. The talent is so amazing..Studly, studly."
Christina complimented his soulful sound, "You're an old soul. Anything you sing makes it sound old school. I'm interested in seeing where you go after this point."
CeeLo said, "I turned my chair around for a few of you guys. As much as that may count against you. These guys are doing a great job." Adam was blown away, "Dude, you sang the feature on top of the mini-vocals tonight. I don't know if there's anyone in this competition that's as unique as Preston. You can't teach that. That's one of the most valuable things that you can have as a singer."
Watch Preston Pohl sing "Nothin' on You" HERE
TEAM BLAKE
COLE VOSBURY
Show Me a Button!
He said when CeeLo turned his chair for him, "Everything was slow motion" but he chose Blake as his coach. Cole joked that even his beard has a Twitter account.
Cole is singing "Maggie May" by Rod Stewart. Cole said about singing well-known the song, "I want to make sure I'm bringing my own flavor to the song and not emulating Rod Stewart as much as I'd like to."
Christina said he is "consistent" and she couldn't believe that only one coach turned their chair for him during his blind audition. She said, "I don't know where I was. You were great and I'm a fan."
CeeLo said, "I still love you unconditionally. I'm friends with you and I'm friends with Rod Stewart." Adam said, "CeeLo how many celebrities are you friend with?"
I regretted not turning around for you ever since I did turn around for you. I'm a stupid person I tried to steal you when CeeLo let you go. Dude you're so good. You're just amazing. Show me a button and I'll press it for you again."
Blake – "You're good for this show. I feel like if I didn't have so much pride I'd feel guilty for having you on my team. I think you could be the guy to win this whole thing. I'm honored to be able to work with you."
Watch Cole Vosbury sing "Maggie May" HERE
TEAM ADAM
TESSANNE CHIN
A Golden Soul!
She was singing background vocals for Jimmy Cliff before she came onto The Voice. She said this is her chance to be a solo artist. Since 'The Voice' She's been on the cover of newspapers in Jamaica and got a phone call from Bob Marley's son.
Adam said he believes in her as a vocals and artist abilities. She is singing "Many Rivers to Cross" by Jimmy Cliff whom she used to sing back-up for. Tessanne said, "I want to do my people proud because it's a great song."
Tessanne was emotionally moved by her performance and was crying afterwards. Christina could relate, "I know what it's like to cry tears of joy. As amazing and incredible as that was, I'm not surprised. I'm a fan."
CeeLo said, "No woman, no cry. Everything's going to be alright. They saved the best for last." Adam responded "I love you CeeLo. Tessanne I don't know where to begin. You have such a golden soul. You're just a wonderful human being. Your talent is just mind-boggling. Jimmy Cliff you have a personal connection with. It does not get better than this."
Watch Tessanne Chin sing "Many Rivers to Cross" HERE
WATCH – THE VOICE Season 5 Episode 13a "The Live Shows Premiere" originally aired by NBC on Monday, November 4, 2013.
UP NEXT – Check out all the highlights from THE VOICE Season 5 Episode 13-B and Episode 13-C in our article Three Hearts Just Broke! THE VOICE – Live Shows Night 2 and Eliminations Recap!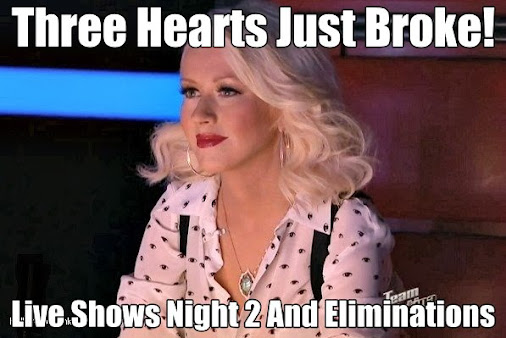 CATCH UP – Recap and highlights from THE VOICE Season 5 Episode 12 in our article Most Improved Players Stolen Back! THE VOICE – Knockout Rounds Night 2