THE VOICE Season Five Episode 16-A and Episode 16-B "The Top Eight" – Performance Highlights, Comments Recap, Eliminations and more!
Episode 16-A PERFORMANCES
TEAM ADAM

JAMES WOLPERT (TOP 6)

If Adam and James Cloned Babies!
Coach Adam Levine told James, "continue to be dynamic and show some other side of you." Joni Mitchell, The Killers and Boston – are all the bands he's sang. He said he's excited to sing "Somebody to Love" song by Queen. Adam said it was a interesting choice.
After his performance, Adam told James, "James let me tell you man, that song. Queen in general…that is the tallest order for a male vocalist. You could sing in Queen. You could go out there tomorrow and hold your own. There was not one thing that was not dynamic. You never lost your place. you were amazing!"
Blake said, "It was incredible. It was dynamic, it was dramatic. It was a solid performance. Maybe the best I've heard you sing so far."
Christina said, "You utilized a different area of the stage. I felt like I was watching a Broadway show." Then Christina commented on the backup dancers who all looked very similar with facial hair. She said, "For a minute I couldn't get over in my head if Adam and James cloned babies."
CeeLo said, "I'm quite the Queen fan as well. You did such a wonderful job. It was utterly impressive. One of the best performances ever!"
Watch James Wolpert Sing "Somebody To Love" HERE
TEAM ADAM

TESSANNE CHIN (TOP 6)

Back To Her Roots
Jamaican vocalist Tessanne Chin said going onto The Voice was the perfect opportunity for her to strike. Tessanne told Adam that he changed her life. She sang ska song "Underneath it All" by No Doubt. Adam said, "It couldn't be more perfect for a female Pop Jamaican vocalist. "Doing this song is the opportunity to dable in my culture, but also see my fun side", said Tessanne.
Adam was thrilled that he chose the song for Tessanne, "It's such an amazing moment for you. There aren't a lot of songs out there that serve with such spice and flavor. This is who Tessanne is. We finally found a way to tie Jamaica with America in the most beautiful and soulful way."
CeeLo said, "I've never seen someone take in mind the notes on a coach (Adam) and keep in mind what another coach (Blake) said. You are the amidst beauty born out of that place."
Christina said, "Thank you for listening. I love your singing voice. But when I heard you speak I wanted to know who you are. This is the first time I feel you broke it down. You simplified it and brought it back to your roots."
Watch Tessanne Chin Sing "Underneath It All" HERE
TEAM CEELO
CAROLINE PENNELL (Eliminated)

Epic Fashion!
Caroline is singing Florence and the Machine's "Dog Days Are Over" CeeLo said the song works for Caroline because it is really dynamic. "People will enjoy seeing this side of you," said CeeLo to Caroline.
Seventeen-year-old Caroline was saved last week by America's vote which in turn, made her part of the Top 8. She said she was discouraged to be in the bottom three last week. CeeLo told Caroline "dog days are literally over." He thinks she can deliver it in an "epic fashion."
Coach CeeLo said, "I'm very proud of you. Such a young lady to perform under so much pressure with poise. The only reason why you are alone, is everything else disappears. You are the only thing that matters to me at this moment. If you win nothing else, you win me because I love you sweet Caroline."
Adam said, "this was really different for you. The point of the show is to constantly step outside of your self. This is the moment, You can't redo the past. It's really bold and exciting. You did really well."
Watch Caroline Pennell Sing "Dog Days Are Over" HERE
TEAM BLAKE
COLE VOSBURY (TOP 6)

A Quite Moment
Accentuate whatever you are said Blake to Cole. Blake took Cole and Ray to "The Tonight Show" set. Jay Leno sat down and talked to Cole and Ray. Blake said, "My vision for Cole is just not a lot of distractions on stage."
Ray sang "I Still Believe In You" by Vince Gill. Blake told Carson Daly, "be careful where you're stepping because his heart is on the stage. To see that kind of emotional performance at this time is key for you. This is the first time we got to hear the character to your voice. There's no one else that sounds like you. You did country proud tonight."
Christina thought it was sweet that the male coaches get so emotional over their artists. "These guy's (CeeLo, Blake) are so invested. I love you guys. It's really sweet. I tuned in as well. It gave us a quite moment to sort of reflect for a moment. Its great to get quiet and get clarity. Your voice shone so brightly on that. I really loved it."
Watch Cole Vosbury Sing "I Still Believe in You" HERE
TEAM CHRISTINA
MATTHEW SCHULER (TOP 6)

Never Changing Who I Am!
Matthew turned twenty-one. Matthew sang "It's Time" by Imagine Dragons. He said, "This song defines what I want to be as an artist." Christina brought in a choreographer, Jeri, to help Matthew stage the song in a military way. Christina had a group of dancers dressed in military wear who backed Matthew up with dancing. It turns out, Christina was being symbolic with this gesture.
Matthew ended the song with the lyrics "I'm never changing who I am!" And it seemed personal.
Christina said, "One thing about Matthew, you come from a place of integrity. What you sing really connects what you feel. You just wanted to speak your truth. I'm me at the end of the day. I'm Matthew. He always comes out with this presence and I wanted to express that with the army."
CeeLo said, "the extension of the song is something that I believe in and support. Continue to be yourself. You're doing a damn good job!"
Watch Matthew Schuler Sing "It's Time" HERE
TEAM ADAM

WILL CHAMPLIN (TOP 6)

The Highest Note Possible
Adam pointed out that his is the only team with three people left. Will sang "At Last" by Etta James this week. "I always love an artist do a song that you wouldn't expect. Don't try to use technique over emotion! I love you doing this because no male vocalist has ever done this," said Adam to Will.
After Will's performance, coach Adam said "I'm laughing because this guy (Will) – it doesn't matter how high a note is, he wants to go higher. He works so hard. Sometimes I have to reel you back in. You just want to nail that highest note possible. I love that ambition!"
Christina reacted to Will's performance, "That was my spirit lived in that song. I eat sleep and breathe that song. I know every note and everything it takes that you did up there. Great, great job. Adam's right – is that you are a thinker. As a thinker you get into your head. With this one. You took everything in and able to go up and sing. It was cool hearing a guy sing it." Christina also noted the resemblance Will had to Adam without wearing his glasses. She said, "And you look like Adam tonight, what's with that?"
Watch Will Champlin Sing "At Last" HERE
TEAM BLAKE
RAY BOUDREAUX  (Eliminated)

Swag Shelton!
During their visit to "The Tonight Show," Jay Leno said he heard this is "beat Blake season" on The Voice. Blake said the coaches are too busy trying to beat him and are not focused on their artists.
"Gimme Some Lovin'" by the Spencer Davis Group is the song Ray sang this week. Ray said because the song is so well known that he had to create moments in the song to make it his own. Blake said this is "Ray's opportunity to showcase himself as an entertainer."
Blake complimented Ray's look, which was a lot like his own – they both sported button-down shirts with dark blazers. Blake said, "Ray has got some style, some swag. What stole the performance for me is when you broke it down and took those moments to let your vocals shine and excel. To put your signature on it."
Christina teased Blake, "You know what the word swag is! It was a lot of fun. It was nice seeing you do something up-tempo. It was a great performance."
CeeLo reacted, "Next time call you Sugar Ray. Awful lot of energy. One thing I love – real rock and roll and energy!"
Watch Ray Boudreaux Sing "Gimme Some Lovin'" HERE
TEAM CHRISTINA
JACQUIE LEE (TOP 6)

Parted Someone's Hair!
From New Jersey 16 year old Jacquie crossed a new bridge this week and blew everyone away! She sang "Who's Lovin You" by the Jackson Five. Her coach Christina said, "This song will help Jacquie dig inside and be aggressive. Jacquie has the a tendency to smile a lot when she's on stage."
Coach Christina was very proud, "You're a complex person, I wanted you to forget everything and just get on that stage and you did it, and then some, and then some. You just threw it up there on that stage I love you."
Adam seemed a bit taken by Jacquie as he said, "I always wonder – you're very young to be professing all this heart break. It's impressive because you haven't really been alive that long. You have to meet a nice boy. More power to you!"
Blake said, "It was just full of energy and dynamics. I don't know who you were singing to down there. You parted someone's hair!"
CeeLo agreed with Adam, "This is crazy. It's like you swallowed an old lady!"
Watch Jacquie Lee Sing "Who's Lovin' You" HERE
WATCH – THE VOICE Season 5 Episode 16-A "The Live Top 8 Performances" originally aired by NBC on Monday, November 25, 2013.
Episode 16-B ELIMINATIONS
At the opening of Tuesday's elimination show, singer Ellie Goulding opened the show. Male artists from Team Adam Will Champlin and James Wolpert, and from Team Christina, Matthew Schuler joined her.
Host Carson Daly asked the coaches about their artists performances last night.   Adam said, "I think I have a great team and everyone did such a great job.   I'm hoping for the best."   CeeLo said "I'm very proud of Caroline.  She did very well under the circumstances."   Christina told Daly that her strategy moving forward would be "For us to know and for you to find out!"
FIRST SAVE:
Before Daly announced the first save of the night, he asked Team Adam's Tessanne about her about putting her trust into Adam week after week. She said he has taught her so much dedication and she adores him. She thanked him for turning his chair.
The first save of the night was announced as Will Champlin!
The Top 8 performed "Will the Circle Be Broken" by Nitty Gritty Dirt Band.
SECOND SAVE:
Daly asked Matthew how much has Christina's coaching influenced him as an artist. Matthew said, she's taught him to keep pushing himself. Daly then announced the second save – Team Blake's Cole Vosbury.
A poll asked THE VOICE fans to vote on whom they'd like to have at their Thanksgiving table the most. The popular vote was coaches Adam Levine and Blake Shelton.
CeeLo performed on THE VOICE stage with Big Gipp singing what sounded like "the right girl"?
THIRD SAVE:
From Team Christina, Jacquie Lee is moving on to next week's live show.
The Top 8 performed One Republic's "Apologize" and "All The Right Moves"
FOURTH SAVE:
Tessanne Chin was announced as moving on to the Top 6. The four remaining artists on stage were – Ray, Matthew Schuler, James Wolpert, Caroline Pennell. Then, James Wolpert was announced as saved!
THE BOTTOM THREE:
The remaining artist who were left unsaved were: Ray Boudreaux (Team Blake), Matthew Schuler (Team Christina), and Caroline Pennell (Team CeeLo)
Blake said of Ray, "Ray is incredibly talented and his form of music needs a spotlight." CeeLo said Caroline has been so brave and has offered so much of herself and "deserves this opportunity to go all the way through." Christina said, "Matthew.. I don't understand why. You've proven yourself time and again. I believe in you so whole heatedly."
INSTANT SAVE
America instantly saved Matthew Schuler. The two that were eliminated were Team CeeLo's Caroline Pennell, and Team Blake's Ray Boudreaux!
WATCH – THE VOICE Season 5 Episode 16-B "The Live Top 8 Eliminations" originally aired by NBC on Tuesday, November 26, 2013.
UP NEXT – Check out all the highlights from THE VOICE Season 5 Episode 17 in our article The Top Six Of Season Five On THE VOICE – Live Shows Week Five Recap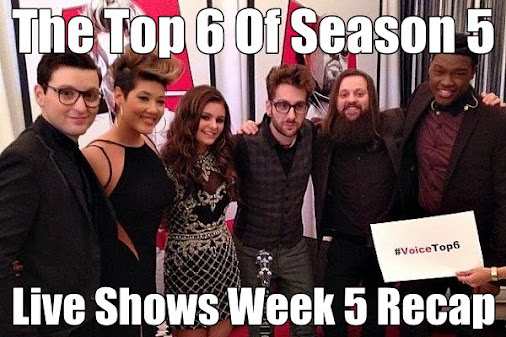 CATCH UP – Check out all the highlights from THE VOICE Season 5 Episode 15 in our article Breakout Moments On THE VOICE – Live Shows Week 3 Recap