The first night of season 6 of "The Voice" Blind Auditions finished with the coaches competing with each other to win-over the best talent to build their teams. By the end of the night Blake had committed one artist to his team, Shakira added two, Team Adam had two members, and Usher finished with three artists.
All In The Family:
Delvin Choice – Team Adam
singing "A Song For You"
Delvin is auditioning for the second time.  He still works for Starbucks, which is one of 'The Voice's sponsors.  He said he's glad to be working for a company that "support's their partner's dreams".  The coaches advised him to pick a song that was "less dancey" at his last audition. He sings at church with his father. Delvin said he's better prepared and "more determined" this time around.
Button-pushers: Adam, Blake, Shakira, Usher
Adam stood at Delvin's performance because it was so good. Usher hesitated for awhile before pushing his button at the very end of Delvin's blind audition. Shakira told Delvin in an exaggerated Spanish accent that she "solemnly swears" that she will take him to the top! Adam mocked her accent and said that he lives in Los Angeles, and doesn't understand what she is talking about. Usher said to Delvin that he's the only coach who knows the artist of the song that he auditioned with.
Delvin chose Adam.
Watch Delvin Choice Sing "A Song for You" http://hllywdjnkt.co/1fB1NWn
Playing the Bieber Card!
Madilyn Paige – Team Usher
Singing "Titanium"
Madilyn who is 16-years old, said she is passionate about making short films. Her mom saw her raw talent when she heard Madilyn singing a song from a movie, and entered her into singing competitions which Madilyn was successful at winning.
Button-pushers: Usher, Shakira
Adam was shocked, "How did all that come out of such a cute little thing?" Usher commented on her singing style, "Your coach is very smart. You went aggressive with a gentle side. If you chose me, You could go a long way."
Shakira expressed her longing to mentor a young female singer, "I really need to work with a young female artist." She said she want's to share what she's learned in her 23 years as an artist. "I started out when I was 13 years old."
Madilyn chose Usher. Though Shakira fought hard to get Madilyn on her team, she lost out to Usher. Shakira said, "he played the Justin Bieber card".
Watch Madilyn Paige Sing "Titanium" http://hllywdjnkt.co/1eJ2PhB
Dropping Some Michale Buble Crap!
Noah Lis – Team Blake
Noah is 22 years old and told the story of his Grandfather believing in him and supporting his singing from the very start. He teared-up when he said that his grandfather passed one year ago before he got he chance to see Noah's singing career take-off. Noah has been running his own music business for nine years.
Singing: "Me And Mrs. Jones"
Button-pushers: Blake, Adam
Blake exclaimed, "I love that you chose that song! I love that about you!" Adam warned Noah about Blake, "He's going to drop some Michael Buble crap on you!" Blake confirmed that he could call Michael Buble right now. Noah said his inspirations are Frank Sinatra and Tony Bennett.
Blake said, "One of my all time heroes is Dean Martin." Adam said, he'd a critical thing about Noah's voice is it's "a little rough around the edges." Adam told Noah, "I'm not going to blow rainbows up your butt! I think you need a little refinement. But that's why you should pick me because I will polish you up."
Noah chose Blake. He said the perfect fit for him is Blake! Blake said he's always wanted to work with a crooner and can't wait to explore that.
Watch Noah Lis Sing "Me and Mrs. Jones" http://hllywdjnkt.co/1mYyFZH
Queen Inspired!
Keith Suskie
Keith's regular job is an assistant at General Hospital in Buffalo. He formed a rock band at the church he is in. Keith has a huge responsibility to his wife and kids.
Button-pushers: None
Adam said, "Your voice cuts in an interesting way. Sorry we didn't turn around." Adam tried to soften the blow by telling Keith that the other artists are off the charts, "There is some stellar talent going on," said Adam.
When asked, Keith said his influence is Freddie Mercury from Queen – which might partially explain why Keith wears a full-on handle bar mustache! Shakira got Keith to give them a sample from a Queen song.
Usher told him to make a promise to come back to audition next season. Usher said "Maybe this song isn't the best choice for him" which is why he told him to come back.
Blake Wants to Adopt Her!
Deja Hall- Team Shakira
Deja who is 16 years old, said she moved around a lot being because she was an "Army Brat". She said, "The only thing consistent in my life was music."
Singing "True Colors"
Button-pushers: Blake, Shakria, Usher
Adam said there was a note 'don't be afraid' that he didn't hear. Shakira said she was smiling the whole time that she was watching Deja sing. "You are so angelic. Your voice is so beautiful. It doesn't matter who you chose, you're going to be a star," said Shakira. Blake reminded everyone that he is the champ of making teenage girls winners on the show and said, "I think you can win this show, but you're not going to win with these two (Shakira and Usher).
Blake said both of them have kids, and "I don't. I want to adopt you!" Usher referenced the note that Adam was talking about, "I know how to hit that note. There's certain breathing techniques that you an do to hit that note."
Deja chose Shakira. She said she felt Shakria is the best one for her.
Watch Deja Hall Sing "True Colors" http://hllywdjnkt.co/1koXiAc
Come Try My Big Leather Chair!
Cary Laine – Team Adam
Cary is from Alabama. She's 26 years old and married with a child. Cary currently lives in Pinedale, Wyoming which has 1100 people. This makes her singing gigs few and far between.
Singing "Better Dig Two"
Button-pushers: Adam, Blake, Shakria, Usher
Usher asked Cary if she would consider sneakers in his attempt for her to give up her cowgirl boots. Blake took offense and shouted that she's not going to give them up. Usher then said it is because he wants her to be comfortable. Then Adam said, "come and try my big leather chair. I want you to be comfortable too." He sat her in his chair.
Usher said "I've heard this story before. The three bears." Usher then got her to sit in his chair. Usher told her to look him in his eyes. Shakira covered his eyes. He said "look at my lips." Shakria said "Even worse!"
Adam said there are no female country singers on his team so she would have no competition with others on his team. Blake said there is a reason for that, and bragged that Cassadee Pope has a number one single.
Cary chose Adam. She said, "I felt like Adam really wanted me on his team. He really fought for me. So, I picked Adam."
Watch Cary Laine Sing "Better Dig Two" http://hllywdjnkt.co/1bYUuqk
MISSED IT OR JUST WANT TO SEE IT AGAIN?
Watch THE VOICE season 6 episode 2 "Blind Auditions Premiere, Part 2" first aired by NBC on Tuesday, February 25, 2014. This full episode is now available at HOLLYWOOD JUNKET until 09/21/14 courtesy of NBC. ENJOY!
UP NEXT!
Check out all the "chair turners" from THE VOICE season six episode three, "blind auditions" in our article Biggest Gig! THE VOICE – Blind Auditions Night 3 Recap http://hllywdjnkt.co/the-voice_s06e03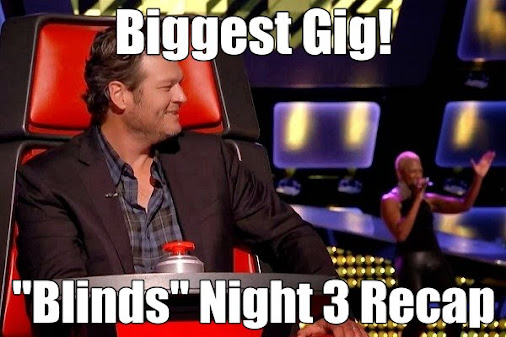 CATCH UP?
Check out all the "chair turners" from THE VOICE season six episode one, premiere night "blind auditions" in our article Grammy Moment, Defining Artists! – THE VOICE Season 6 Premiere Recap http://hllywdjnkt.co/the-voice-s06e01