It's week one of "The Voice" Battle Rounds and the coaches have called-in their re-enforcement, or "advisers". Together the coaches and their advisers will help further develop their artists in to tip-top fighting mode by supplying them with an arsenal of harmony, tones, and confidence.
Team Christina had Ed Sheeran in her corner to help tonight's battles of: Amber Nicole Vs. Timyra-Joi; Briana Cucos vs Jacquie Lee. CeeLo had the help of Miguel for his battle: Anthony Paul vs. Caroline Pennell. Adam's adviser is Ryan Teeder who's the front man of "One Republic". His battles were: Grey vs Nic Hawk; Donna Allen vs Tessanne Chen. Blake brought-in heavy hitter Cher. His artists battling were: Shelbie Z Vs. Justin Chain. Adam had the first battle of the night.
TEAM ADAM
Grey vs Nic Hawk – GREY (Battle Winner)
Twenty-five year old Grey was up against Nic Hawk (26 years old) who is a theater veteran. Grey said, she was nervous about battling Nic because "He's just a fireball." Adam said he paired the two for battle because "I think his pairing is eclectic and diverse."
They sang "Dancing in the Moonlight"
Blake joked, "Both of you have broken my heart on this show already. Nic didn't hit on me as much as he hit-on Adam." Overall, Blake picked Nic. One reason is because he Nic "has his own Disco thing going on." Christina said, "Grey did a great job because there's a counter balance." She voted for Grey for consistent vocals. CeeLo is partial with what Nic was bringing to the stage. He voted for Nic.
Adam decided to keep Grey and claimed her the winner of the battle. But, just as Nic began making his exit speech, Blake pushed his button to steal him. Blake yelled at Adam, "Why is Adam such an idiot? Not enough was said about your vocals and you did all that other stuff you did," said Blake for stealing Nic.
Watch Grey and Nic Hawk sing "Domino" HERE
TEAM CHRISTINA
Amber Nicole Vs. Timyra-Joi – AMBER (Battle Winner)
Christina picked the two to battle because they both have a lot of similarities. Not only with their youthfulness (15 and 16 years old) but all their possibilities. She said this song (Listen from Dreamgirls) says everything all the things the world has. She said they remind her of herself.
Adviser Ed Sheeran, said the trembles that Timyra displayed happens a lot with people due to nerves. Amber's main strength that the mentors found is her range.
They sang "Listen" by Beyonce Knowles from "Dreamgirls". Christina said, "If I was up and coming on the scene I would be scared right now. I am touched right now." After their battle, CeeLo said, "Unbelievable the vocals." He was partial to Amber. But gave his vote to Timyra-Joi.
Adam said "Every single second after the nerves was great." Blake said, "I've known this little girl (Christina) for a while and never seen her cry during a battle round. I don't know what she's going to do." Blake didn't' vote.
Christina voted Amber as the winner. She said, "I went with Amber because she was a little bit older and a little bit more developed." Blake said he feels he should have thought of a way to make it work to have Amber on his team and regrets not stealing her.
Watch Amber Nicole and Timyra-Joi sing "Listen" HERE
TEAM BLAKE
Shelbie Z Vs. Justin Chain – SHELBIE Z (Battle Winner)
Shelbie stopped doing beauty pageants because she said she is a "bigger girl". Her reaction to having singer Cher as her mentors adviser was, "Cher is legendary so it doesn't matter if she's not country. It's Cher."
Blake said Adam would love to steal a country singer. Cher told Blake that she loves Adam but couldn't tell him a favorite song. Blake noticed some harmony issues with the pairing. Cher said she's not good at them! Uh Oh!
Singing "Don"t You Wanna Stay" by Jason Aldean and Kelly Clarkson. Blake said this is the only true duet to be performed. After the battle, Christina said, "It would be a great duet pairing for real. You guys blended so perfectly. But I did love Shelbie Z." CeeLo said, "What a great up performance. It's really beautiful. The way the song was segmented, it allowed Shelbie to hit those big notes." He voted for Shelbie.
Adam said his biggest complaint was that he couldn't focus on the separation of the two singers. "There was one person that was flat or sharp." CeeLo said it was Shelbie. CeeLo voted for Justin.
Blake said "Justin would have kicked the hell out of me. Holy crap Shelbie Z. delivered what Kelly did." Blake selected Shelbie Z. as the winner.
Watch Shelbie Z. and Justin Chain sing "Don't You Wanna Stay" HERE
TEAM CEELO
Anthony Paul vs. Caroline Pennell – CAROLINE (Battle Winner)
Anthony put college on hold and decided to use his show choir background on The Voice. Caroline stepped out of her shell and her unique sound made Cee Lo and Blake turn their chairs during her Blind Audition.
They performed "As Long as You Love Me" By Justin Bieber. During rehearsals, CeeLo said the song is sweet and shouldn't be over-done. Anthony said he just needs to work on emotion. CeeLo told Caroline to not because complacent because she already has these qualities.
After the battle, Adam told Anthony, "The felling and emotion you sang it with was amazing." He then told Caroline that she "took it and turned it into something different." His vote went to Caroline. Blake said, "Adam was right. But Anthony displayed much versatility and darkness." He voted for Anthony. Christina said that was her favorite battle of the day. She didn't vote for any singer.
CeeLo said He's proud and agreed with Christina that it was the best battle of the day. He said there's "something about Anthony's voice that is natural and affectionate." However, surreal outweighed that. CeeLo said to Caroline, "there's something surreal about your voice that allows me to dream with my eyes open. You can be stretched and turned into so many different things. You've made this the most uncomfortable part of the show for me this season. I want to win this season." He chose Caroline as the winner.
Christina stole Anthony Paul. She said she stole him due to the fact that he's fantastic and he has vocal control that never slid-off during the duet. Anthony said he was "hoping so bad that Christina would hit her button."
Watch Caroline Pennell and Anthony Paul sing "As Long As You Love Me" HERE
TEAM ADAM
Donna Allen vs Tessanne Chen – TESSANNE (Battle Winner)
Donna Allen (age 54) was part of Miami Sound Machine who's lead vocalist was Gloria Estefan. Donna stopped touring because of her son. Tessanne (age 28) is also a former backup singer. She sang back-up for famous Jamaican singer Jimmy Cliff.
Adam said who ever he let's go will be a loss for him. His adviser Ryan Tedder told Tessanne that she's not a back-up singer anymore and Donna was over-powering her. "I'm not trying to out-sing Donna because there's no way that's going to happen," said Tessane. Adam told Donna that she has that same caliber of voice as Tina Turner.
Singing "Next To Me" by Emeli Sande. Right after their battle, Blake said, "It was epic! To have that kind of range and the raspy sound. I wish I had something to be critical about. But I really got into Donna." Christina said they took a simple song and made it "I'm going to come get you and battle you." She called Donna Tina Turner. Her choice winner was Tessanne.
CeeLo said he couldn't deny the "raw talent' of Donna. But gave the battle to Tessanne. Adam said, "You each have something that the other one doesn't have." He said to Donna, "You really do sound like Tina but not in a way that is imitation. Tess you make everything so effortless. It's pretty astonishing. I think you are both world-class singers." Adam chose Tessanne as the winner. Tessanne said Donna made her a better singer because her voice is so powerful.
Watch Donna Allen and Tessanne Chin sing "Next to Me" HERE
TEAM CHRSTINA
Briana Cucos vs Jacquie Lee – JACQUIE (Battle Winner)
The battle song that Christina gave them to sing was 'House of the Rising Sun' by The Animals.  She said she "didn't want to give them something too safe Briana, who's 24-years-old,  said she's going to be challenged by Jacquie, age sixteen.  Jacquie said there's nothing wrong with Brianna's voice and she can hit the high notes with ease.
After their very impressive battle, CeeLo said, "That was amazing! No matter how successful, it's a very greedy soulful song. Jacquie put a beautiful spin on a classic record." Adam's reaction was, "If I had to choose right now – I don't know." Blake said, "Jacquie, when I heard how powerful you are, it's incredible.   It think Briana captured what is meant to happen in that particular song."
Christina had a difficult time claiming a winner. She said, "both of you girls won this battle because you did the whole thing."  She picked Jacquie as the winner. Because she said, "I've seen so much growth in Jacquie. You tell her something once and she comes back and does it."
Briana got two button pushes for steals from CeeLo who said, "I believe there's a story in your voice," and Blake who said, "I have a feeling how you perform that song that you're probably a song writer." Adam's way of rooting for CeeLo was to pull Blake down and yelled to Briana "Do not look at the dimples. Do not make direct contact with the dimples!"
She picked Blake. Blake said "I think she's a dark horse in this competition." Brianna said she picked Blake because of his past wins and hopefully she'll be another one.
Watch Briana Cuoco and Jacquie Lee sing "The House of the Rising Sun" HERE
Watch THE VOICE Season 5 Episode 7 – The Battles Premiere, originally aired on Monday, October 14, 2013.
NIGHT TWO
TEAM CHRISTINA
Jacob Poole vs. Matthew Schuler – MATTHEW (Battle Winner)
Singing "My Songs Know What You Did in The Dark (Light Em Up)" by Fallout Boy
Jacob is a musical director at a national church. Matthew is an Indy Pop Artist and college student. He got the fastest chair turn in 'The Voice history. Christina chose to pair them up because they have a lot of rock inspiration. Christina said, "Matthew is an amazing singer but he runs the risk of being over-zealous."
After their battle, CeeLo said, "Great job! No average artist can perform like that and still keep your cool." Adam was amazing and called the battle an "ass-whooping!". He said, "That was like a musical ass-whooping. That was crazy. However no one got their ass whooped on that stage. We got our ass whooped out her." Adam picked Jacob. Blake agreed with Adam about the "ass-whooping." He said, "I'm surprised that no one's nose is bleeding. There was such intensity." He was impressed more by Jacob.
Christina told them that they "blew everyone away. 'Fire!'- Staying consistent in that is crazy! I thank you for taking-in everything that I had to give and making it happen." She awarded Matthew as the winner.
Watch Matthew Schuler and Jacob Poole sing "My Songs Know What You Did in the Dark (Light Em Up)" HERE
TEAM CEELO
Kat Robichaud vs. R. Anthony – KAT (Battle Winner)
Singing "I Don't Want to Miss a Thing" by Aerosmith
Kat auditioned for 'The Voice in memory of her deceased father. Gospel singer R. Anthony had waited a long time before pursuing music. They had the help of mentor adviser Miguel along with CeeLo. R. Anthony said "you can't pay for a session like that" on his rehearsal with Miguel and CeeLo. Kat's biggest challenge she said is knowing when to be soft and when to let it rip.
Adam responded to their battle, Kat – "I love your intensity and how you kind of commit." He said R. Anthony is a surprise. Blake said he agreed with Adam on R. Anthony coming out of nowhere. He also said about Kat, "no matter what she's doing (like checking the mail) there's that kind of intensity. He chose Kat.
Christina said Kat is kind of like a tiger and she has "crazy vocal control." CeeLo said, "You both did an exceptional job. You R. did a great job that way that you cut through. You Kat are a dynamo. I need a natural disaster like you." The winner that he claimed was Kat. Kat reacted by saying she is going to be that tiger. "I am going to do this!"
Watch R. Anthony and Kat Robichaud sing "I Don't Want to Miss a Thing" HERE
Other battles of the night included:
TEAM CEELO
Cole Vosbury vs. Lupe Carroll – COLE (Battle Winner)
They sang "Africa"
TEAM BLAKE
E.G. Daily vs. Sam Trujillo – E.G. (Battle Winner)
They sang "Something to Talk About"
Their mentor Blake picked E.G. and said, she "did a phenomenal job!"
TEAM ADAM
Ashley DuBose vs. Justin Blake – ASHLEY (Battle Winner)
They performed Christina and Blake's hit duet.
Adam said he was going with "Someone I feel is prepared for all the things I know is coming." Adam chose Ashley.
TEAM BLAKE
Monika Leigh Vs. Ray Boudreaux – RAY (Battle Winner)
Singing "Some kind of Wonderful" by Grand Funk Railroad
Monika wants to give-up her hotel administration job. Ray is a landscaper and is looking for a new start for his family. They, of course, were both surprised to see Cher was their adviser. Blake said he picked the song because it fit their characters. Cher said "loud is not necessarily the best." Cher reminded Monika that she has just one chance and to pull-back. Monika was having trouble with her rifts.
Ray said he is sticking to Blake's advice because he's the one choosing the winner.
On their battle, Christina said it was a tough one. CeeLo told Ray he can 'sang!' and Monika has a strong voice. Adam told Monika he's still mad at her for not picking her. HE chose Ray – "The Sky's the limit." Blake said he was going to DVR that. Monika I love the freedom that you express on the stage. he said "she's going to create the moment as it happens," that she sing's it differently every time. It's the same thing the Cher told her. He chose Ray as the winner because "his pitch was great and he did everything perfect."
CeeLo pushed his button and stole Monika. She told CeeLo that she loves him. CeeLo picked her because at the end of the day, he wants a singer "that can project and sing with passion."
Watch Monika Leigh and Ray Boudreaux sing "Some Kind of Wonderful" HERE
WATCH – THE VOICE Season 5 Episode 8 "The Battles Premiere Part 2" originally aired on Tuesday, October 15, 2013.
UP NEXT – Singers from THE VOICE's second week of battle rounds in our article Leaving It All On The Stage! THE VOICE – Season 5 Battle Rounds Week 2 Recap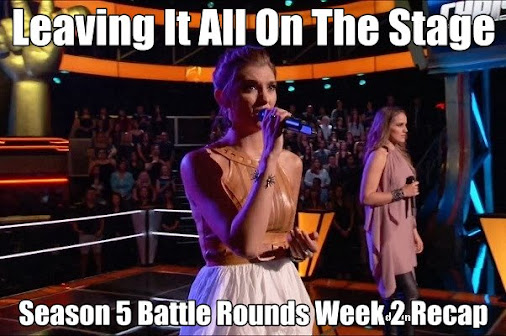 CATCH UP? – Check out all the singers from THE VOICE's third week of blind auditions in our article Guitar Rock'n On THE VOICE – Season 5 Blind Auditions Week Three Recap.