Will Ferrell, Paul Rudd, Steve Carell – Reclaiming Glory In ANCHORMAN 2 Movie Preview
October 26, 2013
Most Improved Players Stolen Back! THE VOICE – Knockout Rounds Night 2
October 30, 2013
Getting Served! THE VOICE – Knockout Rounds Night 1
TEAM CHRISTINA
Amber Nicole vs. Josh Logan – JOSH (Knockout Winner)
Being a Great Coach
CeeLo Steals Amber!
Christina said Josh chose a Stevie Wonder song and "it's scary how much he sounds like him," she said. Amber Nicole at only seventeen-years-old is his competitor in this Knockout round.
Amber Nicole sang "Mama Knows Best" by Jessie J. Josh sang "Living For the City" by Stevie Wonder.
CeeLo was blown away by their talent and reacted, "Very different song to sing. Josh I keep discovering you. You have a great voice." Adam said to Amber, "Everything you put into ninety seconds was really perfect. He told Josh, "You did that song serious justice," and that Stevie Wonder is "difficult to sing."
Blake said, "Maybe Christina is perfecting change. Dammit, how do you do it?" Christina answered, "It's called being a great coach!" She then praised Amber for bringing character to the stage because it was the first thing that CeeLo noticed. She told Josh that she loves his voice. Christina picked Josh as the winner. She said she loves how Josh "keeps surprising the coaches."
CeeLo and Blake pushed their buttons to steal Amber. CeeLo told her, "I think we can help each other win the show." Suddenly, things got personal for the two coaches. Blake said, "There is no one even near anyone what you do on my team." CeeLo told Blake that there is "no talent" on his team. Then told Blake "I know you want to win again. Just give me the girl."
Amber said, she is not intimidated by the talent on CeeLo's team and went with CeeLo.
Watch Josh Logan sing "Living for the City" and Amber Nicole sing "Mamma Knows Best" HERE
TEAM CEELO
Kat Robichaud vs. Monika Leigh – KAT (Knockout Winner)
Can You Feel It?
"I want to see who gives the most show-stopping performance."- CeeLo
Kat picked "You Oughta Know" by Alanis Morissette to sing. She said, "I feel it represents me as a performer – angst.". She's a wonderful vocalist, but I'm looking for the best fire extinguisher for the live shows," said CeeLo.
Monika lost in the battle round but then was stolen by CeeLo. She's singing "Hit the Road Jack" by Ray Charles. Monika said she wanted to show the blues side of her.
Adam said of Kat's performance, "you're a rock star. A couple of times it looks like you're going to kill somebody. Monika is a little more calculating." He favored Kat. Blake admired the beauty of the two women – "I don't think we've ever had two sexier girls on stage. People are going to handcuff men to drag them away from Monika. Kat, people are going to have to handcuff Kat," he said to keep her away from the concert goers. He chose Monika.
Christina reacted, "Kat is crazy, crazy great. Can you feel it? Yeah I can feel it! I love both for different reasons." CeeLo was torn, and said they represent "each end of the spectrum. Monika some of the sultriness was lost in the translation." He based his choice from this performance alone. He chose Kat. Christina said she didn't think that Monika had the vocal consistency that Kat had.
Watch Kat Robichaud sing "You Oughta Know" and Monika Leigh sing "Hit the Road Jack" HERE
TEAM BLAKE
Holly Henry vs. Nic Hawk – NIC (Knockout Winner)
It Pays to Listen to Blake
Holly chose to sing "Creep" by Radio Head. Blake said, "This is a great song choice for Holy and the type of artist that she wants to be. But it's very challenging vocally. Blake said she will have to work hard.
Nic was stolen by Blake. Nic sang "Genie in a Bottle" by Christina Aguilera. Blake said "It's always a risk" when singing a coaches song. "If I don't nail the lower register, there's a real possibility that I could be going home," said Nic.
Christina reacted, "I love that song! 'Creep – I love that. Mr. Genie in a Bottle you brought me down memory lane." She said it was a toss-up. Adam told Holly, "The emotion you were showing did overcome your performance," and to Nic he told him that he missed him and thinks about him every day. He picked Nic.
Blake said, "Holly you were as invested in that performance as you could be. It worked. Nic, you are confident at being who you are and owning it and displaying it to the world. You are proud of it." He said they are apples and oranges and are on two opposite ends of the spectrum . He picked Nic.
Blake picked Nic because he said Nic "addressed all the notes" that he addressed.
Watch Nic Hawk sing "Genie in a Bottle" and Holly Henry sing "Creep" HERE
TEAM ADAM
Ashley Dubose vs. Tessanne Chan – TESSANNE (Knockout Winner)
Coffee and Cigarettes
"They are both powerful singers. This is about power." – Adam
"Hey Soul Sister" by Train Ashley said she chose this song so people can see the upbeat side of her.
Tessanne said it's time for her to go to "the next level." She said she chose Adam for a coach so she could grow. She sang "Stronger (What Doesn't Kill You)" by Kelly Clarkson for the message in the song.
Christina said, "Ashley I saw you deliver that best moment you could. Tessane took the song to a different level." CeeLo told Ashly, "You have that coffee and cigarette quality in your voice," and that Tessanne was "like a lioness."
Adam said, "Ashley isn't dissimilar." Adam said he is going for who will "best represent to step out and try new things." But, most important, he said, "People that are in the position to win the whole thing." He chose the winner of the knockout as Tessanne.
Watch Tessanne Chin sing "Stronger" and Ashley DuBose sing "Hey, Soul Sister" HERE
TEAM BLAKE
Briana Cuoco vs. Shelbie Z. – SHELBIE Z (Knockout Winner)
Presence and Charm
"I want to see which one can bring the passion tonight." – Blake
Briana was stolen by Blake in the battle rounds from Christina. She said she wants to show some of the rock side. She picked to sing "Don't Speak" by No Doubt.
Shelbie chose to sing "Last Name" by Carrie Underwood. She chose this song because it's the song she wins contests with.
After their performances, Christina pointed out some pitch performance problems with Briana. CeeLo thought Briana had a "really solid moment. But picked Shelbie Z. as his favorite, stating that she has "so much presence and charm."
Blake said of the two singers that they are "two of the hardest working artists on my team. It's another thing when someone outright, out-sings the other. The winner is Shelbie Z."
Watch Shelbie Z sing "Last Name" and Briana Cuoco sing "Don't Speak" HERE
TEAM ADAM
Grey vs. James Irwin – GREY (Knockout Winner)
Not at the Very Top
Grey chose to sing, Kelly Clarkson's "Already Gone." Grey said, "That's the kind of artist I want to be. I want to be a story-teller" is why she chose the song.
James picked "Breakeven" song by The Script. He said he chose the song because he thinks about when he lost his daughter.
After their Knockout round, Blake reacted with "Grey you left the door open a little bit for James. I heard the warmth of your (James) voice." He said James won it for him. Christina said to Grey, "You brought it all the way home. She addressed James, "You have this really rich tone in your voice. You held the note and I didn't hear the pitchiness in it."
CeeLo said to Grey, "I've never seen anything like that. Damn, she did that!" For James, CeeLo told him that he had "great range." Adam was in a standstill with selecting a winner. "You have a crazy powerful voice. James you back off the mic. But you were hitting those notes. You were both fantastic." Adam said James has the power to go extremely far. But, Grey has "the ability to win the whole thing." Adam said Grey is "not at the very, very top. But, she could easily get there."
Watch Grey sing "Already Gone" and James Irwin sing "Breakeven" HERE
TEAM CHRISTINA
Destinee Quinn vs. Olivia Henkn – OLIVIA (Knockout Winner)
Welcome to Karaokeville!
Destinee said she picked "See You Again" by Carrie Underwood for the personal losses in her life.
Olivia chose to sing "You're No Good" by Linda Ronstadt. She said she selected this song to take country, pop and rock which "showcases who I am as an artist perfectly." During rehearsals Christina told her she was being too "karaokeville".
Adam said he heard more issues with Olivia but it's pretty much "dead even." Blake said Destinee was flat, and that their problems were even. He said Olivia was "consistently sharp." He said when given the choice, he'd pick someone who is sharp. So, his choice was Olivia.
Christina told Destinee "You operate on emotions. Olivia you let nerves take over." She said that they both did let nerves take over a little bit. She picked the winner as Olivia because she said she had a little bit more "skill and experience." Blake didn't attempt to steal Destinee because he said he already has a female country singer on his team.
Watch Olivia Henken sing "You're No Good" and Destinee Quinn sing "See You Again" HERE
TEAM CEELO
Cole Vosbury vs. Jonny Gray – JONNY (Knockout Winner)
Don't Look Him in the Eye!
"They both have different grass-roots style and feel. I need to see who makes the bigger connection with the audience." – CeeLo
Cole picked to sing "Let Her Go" by Passenger. Jonny said he wants to be CeeLo's first winner. Jonny chose the song "We Can Work it Out" by The Beatles because he said "they are representative of the artist I want to be."
Adam said "these are two of my biggest regrets with their hats and long hair. I think you're both spectacular." He said he'd steal whomever didn't win the knockout. Blake teased the two singers about their appearances – "It looks like someone else is filming a Western. Jonny, I never heard a voice quit like yours. Cole had more control over his voice," he said. So, he picked Cole.
Christina said they were both "really unique," and liked Jonny's stage presence. She picked Jonny. CeeLo said, "Passenger – a song I didn't know that was going to work against you." He said Cole had, "confidence and poise, " and that he did a "great job." As for Jonny, CeeLo told him with his song choice, there's "something in your voice that reminds me of Dylan. I love you both. Cole, Jonny…the winner today is… Jonny."
Adam pushed his button to steal Cole, then Blake also pushed his button.
Blake said to Cole, "If you go with Adam, you'll leave on a moped and dressed a little bit metro. I want to support whatever direction you're going and help you get there." Cole said, "I don't know who I am as an artist" and said that Blake hit the nail on the head. So, he chose to go with Blake for his coach. Adam reacted "You looked him in the eye!"
Watch Jonny Gray sing "We Can Work It Out" and Cole Vosbury sing "Let Her Go" HERE
WATCH – THE VOICE Season 5 Episode 11 "The Knockouts Part 1" originally aired by NBC on Monday, October 28, 2013.
UP NEXT – Recap and highlights from THE VOICE Season 5 Episode 12 in our article Most Improved Players Stolen Back! THE VOICE – Knockout Rounds Night 2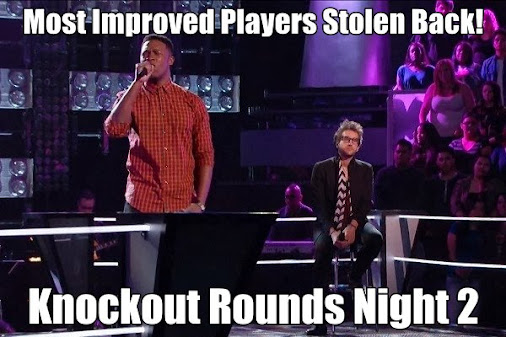 CATCH UP – Singers from THE VOICE's second week of battle rounds in our article Leaving It All On The Stage! THE VOICE – Season 5 Battle Rounds Week 2 Recap