Night two of "The Voice" Knockout rounds hosted by Carson Daly saw some surprises, and some 'Voice history firsts! The coaches were impressed by some, and blown-away by others who were former singers on their teams. Christina and Adam both had the chance and seized their opportunities to get back some of their past artists. Blake was left with no steals, and regretted it during the night's last Knockout performance.
TEAM ADAM
Lina Gaudenzi Vs. Preston Pohl – PRESTON (Knockout Winner)
Lina Gaudenzi said, "I was given a second chance and I don't want to go home yet." She sang, "I'd Rather Go Blind" by Etta James. Preston sang "No Woman No Cry" by Bob Marley.
Preston said, "I need to really dig in to this emotionally." After their Knockout round, CeeLo told Lina "You performed very well." Christina said, "That's great you teased it and went there." Adam said he saw "so much improvement."
"Country dude" Blake from Oklahoma reacted, "that was great." CeeLo said, "Such a rare unique raw quality." Adam was also impressed with Preston – "what Preston does, no one else does" he said.
Watch Preston Pohl sing "No Woman, No Cry" and Lina Gaudenzi's sing "I'd Rather Go Blind" HERE
TEAM BLAKE
E.G. Daily Vs. Ray Boudreaux – RAY (Knockout Winner)
E.G. Daily sang "I can't make you love me" by Bonnie Raitt. Ray sang "Hard To Handle" by Otis Redding
Blake told E.G., "you did what we talked about" "Those Breaks at the end just killed it." He told Ray, "You did it and I am jealous cause I wish I could do that." CeeLo told Ray that he loves the way he performs, and Christina said he had "better control."
Watch Ray Boudreaux sing "Hard to Handle" and E.G. Daily sing "I Can't Make You Love Me" HERE
TEAM CHRISTINA
Anthony Paul vs. Jacquie Lee – JACQUIE (Knockout Winner)
Anthony who is eighteen years old, sang "The Other Side" by Jason Derulo. He said he wants to be a Pop/ R&B artist "This song is going to show my pop side," he said. Christina said that Anthony's strong point is "holding out those beautiful bravatos."
Sixteen year old Jacquie sang "Stompa" by Serena Ryder. Christina said her goal was to get Jacquie to physically have a stronger presence on stage.
Adam told Jacquie that she drew him in and that she's ready for anything. He labeled her the winner of the knockout round. Christina said Anthony is "better than what happened." She said Jacquie has an incredible range and a lot of her reminds her of herself. Christina chose Jacquie as the winner of the Knockout round because there's more that she can do with her she said.
Watch Jacquie Lee sing "Stompa" and Anthony Paul sing "The Other Side" HERE
TEAM CEELO
Stephanie Anne Johnson vs.Tamara Chaunece – TAMARA (Knockout Winner)
Stephanie – Stolen by Christina
CeeLo said he wants to see who has the most power and versatility out of the two.
CeeLo stole Stephanie after Christina dropped her from the Battle Round. Stephanie sang "Don't Know Why" by Nora Jones. But she said the artist that she wants to be sound like is closer to Bonnie Raitt.
Tamara said she comes from a gospel background and has the pop and R&B sound going on but that she can sing anything. She sang "No One" by Alicia Keys in a reggae style which all the coaches loved.
Adam told Stephanie that her performance "felt too unfocused. It lost me a little bit," and called Tamara the "most improved player." Blake said hew as "sold" on Tamara. "I love your stage presence" he told her. Christina commented, "great Knockout round. I felt it from you Stephanie because it was you. I love it."
CeeLo told them, "I'm proud of you both" and told Stephanie that she was singing through some nerves. CeeLo told Tamara that she remind him of a younger Anita Baker He awarded the winner as Tamara.
Christina stole Stephanie Anne Johnson after she did not win CeeLo's Knockout round. "Half of her battle is to showcase her personality and her different sides," said Christina about Stephanie. Christina has picked Stephanie twice. It's the first time in The Voice history that Christina has done that Adam pointed-out.
Watch Tamara Chauniece sing "No One" and Stephanie Anne Johnson sing "Don't Know Why" HERE
TEAM ADAM
James Wolpert vs. Juhi – JAMES (Knockout Winner)
Adam said they are different and wanted to put them together to see who would thrive. James chose to sing "More Than a Feeling" by Boston. He said because of his dad he grew-up on classic rock. "No one has seen James chops yet so this song has huge potential for him," said Adam.
Juhi sang "Heard it Through the Grapevine" by Marvin Gaye, but the Creedence Clearwater Revival version of the song. She said she felt like she got cheated on by not being picked by CeeLo
Christina told the two singers, "You both had great moments. Juhi you were so carefree that it was careless." She saw the most potential in James and picked him as her favorite of the Knockout round.
CeeLo told James that he performed it "like a rock song." He told Juhi that it was a cool rendition and "I hate that you are not on my team by default." Adam was disappointed with James and told the coaches, "Just so you guys know James sang that song perfectly in rehearsal, but not tonight," he said.
Adam told Juhi, "you took the notes really well and did a wonderful job. Based on the fact in my own personal career and have come back after making mistakes, I'm going to have to go with James."
CeeLo said if he had a steal left, he would have stolen Juhi back and he felt that she won that Knockout round.
Watch James Wolpert sing "More Than a Feeling" and Juhi sing "I Heard It Through the Grapevine" HERE
TEAM BLAKE
Austin Jenckes vs. Brandon Chase – AUSTIN (Knockout Winner)
Austin sang "I'll Be" by Edwin McCain. He said, it's suppose to be a love song but switched it around to be about a father/son song. "This song really captures what I'd like to say to him (his father)" said Austin.
Brandon graduated from college at age seventeen and went to Nashville right away. He says he's driven. Brandon sang, "Even If It Breaks Your Heart" by the Eli Young Band. Brandon said, "I'd like to be a country singer who sings about real things."
Christina told Austin "I just felt it was power, power all the way through. I was looking for more dimension. Brandon she said was pitchy but could hear the extension of his voice. She liked Brandon.
Adam told Brandon that he has a "great voice", and that "There's really great things about both of you guys."
Blake said to them, "I heard pitch issues from both of you. Austin was sharp, Brandon was flat" he said. Brandon was "under" a little bit. Blake said in cases like that he doesn't know if improvement will happen. So Blake picked Austin as the winner.
Team Blake: Nic, Cole, Shelbie Z., Austin, and Ray
Watch Austin Jenckes sing "I'll Be" and Brandon Chase sing "Even If It Breaks Your Heart" HERE
TEAM CEELO
Caroline Pennell vs. George Horga Jr. – CAROLINE (Knockout Winner)
CeeLo said "They have a commercial energy. I'm looking for the one to emerge as the one with the total package."
CeeLo told Caroline that she's a strong singer. She sang "The Way I Am" by Ingrid Michaelson. She said she has to step out of her comfort zone and project more. Geroge sang "Because of You" by Ne-Yo. He wants to be like Justin Timberlake.. The more you sing the record, the more it becomes yours. CeeLo pushed George to perform on the stage.
Blake commented, "George was this much flat through the entire performance." He also said Caroline "Makes me want to buy a cat and a pink blanket and curl up by the fire That singer/songwriter sound is the best this season."
Christina told Caroline, "you really draw people in with your voice and is angelic." She picked Caroline.
CeeLo told George, "I know your story, I know your struggle. Pop RB doesn't have a lot of personality. You can dominate this specific genre if that's what you want to go for." He said he thinks Caroline "realizes herself today and that she knows that she's a star." The winner he said is "sweet Caroline!"
Team CeeLo: Jonny, Kat, Caroline, Amber, Tamara
Blake said he's the most nervous about Team CeeLo. CeeLo said he will conquer and win season five.
Watch Caroline Pennell sing "The Way I Am" and George Horga Jr. sing "Because of You" HERE
TEAM CEELO
Matthew Schuler vs. Will Champlin – MATTHEW (Knockout Winner)
Will – stolen by Adam
Matthew chose to sing "Cosmic Love" by Florence and the Machine. He chose the song because he loves Indy rock. Christina said the sky's the limit for Matthew but he strains his voice and has to know when to hold-back and pace himself.
"I'm here with purpose and a goal," said Will. He had chose Adam's team, but lost his battle and Christina stole him.
Singing "When I Was Your Man" by Bruno Mars. Christina told Will not to stick to everything that Bruno Mars did.
Will shared that his wife has a brain tumor and says he has to do everything in his power to win the Knockout round.
After their amazing performances in their Knockout round, CeeLo said he gives both of them a standing ovation. The raspy voice he heard in Will – "that is the sincerity of your pain," he said. CeeLo told Matthew "You're like a Mike Tyson on the Voice. One of the most stellar performances I've seen on the show."
Adam said with regret, "Will was on my team." He said he thought that Matthew was going to clean the floor with him, but "what was crazy is Will came out here and killed it. The two of you guys were equal up there. That's a testament to your (Will) growth."
Blake said, "Will, you came out here and hit a three- pointer." Blake wished that he had a steal left, and Adam cheerfully bragged that he did.
Christina said, "Will, you had the Bruno version embedded in your head. You came out here like a champ. I commend you for that. Matthew you slaved that song – all vocals. She chose Matthew as the winner, and called his performance "magical".
While Will was making his closing speech to Christina, Adam jumped-in and stole Will back on his team.
Watch Matthew Schuler sing "Cosmic Love" and Will Champlin sing "When I Was Your Man" HERE
Team Christina: Jacquie, Stephanie Anne Johnson, Matthew Schuler, Josh Logan, Olivia.
She said she has the best line up for vocals and talent.
Team Adam: Tessanne Chin, James Wolpert, Grey, Will Champlin, Preston Pohl.
Adam said his team is the "strongest team"
NEXT WEEK:
"The Voice" will return next week for a three next event airing Monday, Tuesday and Thursday on NBC. The Top 20 will face off, and Christina will perform with Flo Rida on "The Voice" stage.
WATCH – THE VOICE Season 5 Episode 12 "The Knockouts Part 2" originally aired by NBC on Tuesday, October 29, 2013.
UP NEXT – Check out all the highlights from THE VOICE Season 5 Episode 13-A in our article It Does Not Get Better Than This! THE VOICE – Live Shows Night 1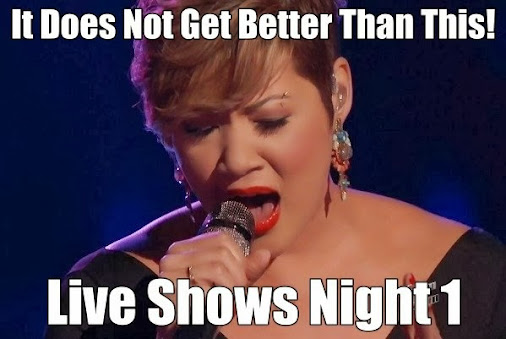 CATCH UP – Check out the singers from THE VOICE's first night of knockout rounds in our article Getting Served! THE VOICE – Knockout Rounds Night 1