As the final week of the Battle Rounds kick off on "The Voice"  some artists find battle nerves is more tricky and other are leaving it all on the floor of the stage. They are fighting for a place in the live shows and the Knock Out rounds.
TEAM CHRISTINA
Josh Logan (wearing hat) and Michael Lynch – JOSH (Battle Winner)
Singing Maroon 5 song "Harder to Breathe"
Josh said "I didn't come here to go through the motions and do everything that I do back home. I came here to grow."
CeeLo said about the battle, "It was very effortless. Josh you almost sound identical to him (Adam)." CeeLo liked Michael's vocal performance. Adam said Josh has a more masculine version of his voice. Blake joked to Adam's comment with "and image too!" Blake said about the battle, "Josh naturally has a more powerful voice."
Adam said that the song that Josh and Michael sang was the first Maroon 5 hit, and said their performance "was really fun." He said to Michael, "Josh probably did overpower you. He's just very polished." All of the coaches agreed that Josh did better.
Christina said about Adam's comment, "that's a huge compliment coming from the man himself. Adam wrote it from a really pissed-off emotional place. The song is written in a way where timing is crucial." She chose Josh as the winner. There was an awkward pause after host Carson Daly reminded the coaches that Michael was available to steal. No one stole Michael.
Adam said he's waiting for one of the coaches to make the wrong decision so he can snatch one of their contestants up! The wait wasn't too much longer.
Watch Josh Logan and Michael Lynch sing "Harder to Breathe" HERE
TEAM CEELO
George Horga Jr. Vs Juhi – GEORGE (Battle Winner)
George's parents who are immigrants pushed him to chase his dream. Juhi is a 16-year-old high school student who says she'd like to do computer science but is more focused on music.
They sang "Best I Ever Had" by Gavin DeGraw
CeeLo's adviser, Miguel said George has a grit to his voice. George said he's being challenged and is "reaching up there for those notes." Miguel also told him to "find those moments where your personality really stands-out." Cee Lo told Juhi to be herself and make him proud.
After their performance, Adam said about George and the breaking of his voice during the battle, "rather than crumble, you sang really well out there. Juhi, you have a great voice. It seems like you have more range than what I originally gave you credit for. It's a tough choice because you're rally different."
Blake addressed George's mistake too, "It sucks when you notice a break in the voice. But only CeeLo knows where's he's going to take you. Juhi is only 16 years old. "It's astounding." and he said he' go with her. Christina said, "both of you brought that song alive. You both had energy." She told Juhi that she kind of have character in her vocals. She didn't pick one.
CeeLo told them that he picked the song "because it's very young. It's an uphill climb. both of your personalities remind me of the record." He called Juhi "some kind of Einstein." He picked George as the winner. CeeLo basically said he respects George's struggle as a singer.
Adam stole Juhi. "I can't believe it. I thought he was going to let you go." Adam said he felt like he just won the lottery by grabbing her for his team. Juhi said her and Adam have similar music taste.
Watch George Horga, Jr. and  Juhi sing "Best I Ever Had" HERE
TEAM BLAKE
Austin Jenckes vs. Brian Pounds – AUSTIN (Battle Winner)
Bee Gees song "To Love Somebody"
Brian was happy with rehearsals with his coach and adviser. He said, "Watching Cher and Blake gushing over Austin does tinge a little bit." Cher said Austin was relying a lot on his "power" and that she used to do the same thing and told him to ease up a little – while Brian is looking on and being envious. Blake pretty much told Brian to be more like Austin and get "lost in the song".
After telling him to simmer it a little bit, Cher then said she had a problem because she couldn't hear Austin during rehearsal. Brian said he wanted to sing without a guitar and concentrate on his voice. Blake realizes his mistake and said he regrets pairing Austin and Brian.
Christina said, "Each one of you had great moments." She said she connected more with Austin."
To Brian, CeeLo said, "I know that you have a great voice On Austin he said he's more comfortable with his voice." Adam credited Austin with taking this one home. Blake said, "I'm trying to figure out who my best Country singer is and I had you do a Bee Gees song." Adam complimented Blake on the pairing and Blake said Austin left his heart out on the stage – "laying there". He picked Austin. "I think Austin is going to take my team deep into this competition during the live shows," said Blake.
Watch Austin Jenckes and Brian Pounds sing "To Love Somebody" HERE
TEAM ADAM
James Irwin vs. Matt Cermanski – JAMES (Battle Winner)
Singing "Counting Stars" by One Republic
Right away Adam said "it's the best team he's every had." Matt said singing One Republic song was a bit intimidating since it's their adviser's song. "James is a more natural gifted singer" said Ryan. Matt said that the guitar is a form of a security blanket. But thought he sounded better without it. Ryan said "Counting Stars" is a song about his struggle to take care of someone else and wanting to make enough money where he could just sit back and count stars.
Blake's response to their battle was, "I think you guys have both the same strengths and weaknesses in your vocals." He said Matt's voice reminds him of Adams. "James has the better pitch." So Blake picked James.
Christina told James that he started strong, but thought Matt ended stronger. CeeLo said he disagreed with Christina, "That was a fly rendition of the song and Matt sings more from his throat." He picked James.
Adam said, "I appreciate that he said the fact that they both came back to The Voice and that they both have work to do regardless of who stays. He picked the winner as James. Adam said about James "I think James is capable of doing a lot . More than what's he's done."
Watch James Irwin and Matt Cermanski sing "Counting Stars" HERE
TEAM CHRISTINA
Destinee Quinn vs Lina Gaudenzi – DESTINEE (Battle Winner)
"I'm Not Ready to Make Nice" by The Dixie Chicks
Destinee, a dive bar singer, battles a former teen model – Lina. Christina said she paired the two because of the softness that they bring to a song, but will have to "kick ass" with the song. Destinee said Lina can do runs that she can not and that she's just a straight singer.
Christina told Lina that it's important for her to know that she already has everything that she needs and "needs to get out of her own way." Feeling empowered that everyone is making fun of what makes you great is what Christina said the song is about. She said they will need to let go and "fight for it." The coaches stood-up at the end of their battle.
CeeLo said "Lina you have a very strong and definitive voice." He told Destinee that he watched her"really lived that song out loud."
Adam said technically there were some problems (without naming names) but chose to go with Lina. Blake said about Destinee There's something to be said to have that connection with a song. He said he give her a free pass on some of the technical issues and felt that Lina performed the song better.
Christina said, "This is a song that if you're not connected on an emotional level, you fall flat on your face. She said Destinee nailed it but Lina went there emotionally and it's a "win, win."
Make people feel moved that's why Christina named Destinee the winner.   Adam stole Lina from Christina. I thought that there's so much potential he still thinks that there's "some diamond in the rough thing going on there."
Watch Destinee Quinn and Lina Gaudenzi sing "Not Ready to Make Nice" HERE
TEAM ADAM
James Wolpert vs Will Champlin – JAMES (Battle Winner)
Singing "Radioactive" by Imagine Dragons
Wolpert is a former Apple Store employee. Will Champlin is the son of a Chicago band member. Adam said Will need to wrangle on the technical issues and Will said "if he could only conquer his nerves" he'd be fine. Adam said for James his technique is perfect but just needs to evoke more emotion. Will said he's playing to win. James said he needs to win the battle to prove that dropping out of school was a good decision. Will said there is no following in his father's footsteps and he wants to win it for his wife and daughter.
Blake was laughing he said "Adam doesn't know what he's going to do." Then went on to say, "James – your the surprise out of that ballet because you don't look the part." He picked James
Will there was no question that you had the more solid consistent performance. I was surprised that you pushed a little bit too far. She said Will won the battle.
CeeLo said, "for my own intrigue and amusement, I like James better." James you had the least proof. Will was a huge surprise because in the rehearsal he has improved. Will you look like more what we hear. James you look like you work in the stock market. The winner Adam picked was James
Christina pushed her button to steal Will at the last second.   She said she felt that Will won the battle.
Watch James Wolpert and Will Champlin sing "Radioactive" HERE
WATCH – THE VOICE Season 5 Episode 9 "The Battles Part 3" originally aired by NBC on Monday, October 21, 2013.
THE FINAL BATTLES – Tuesday Night
The final night of the Battles is Tuesday night with only one steal left. CeeLo was up first with singers and military vets Jonny Gray and Shawn Smith.
TEAM CHRISTINA
Jonny Gray vs. Shawn Smith – JONNY (Battle Winner)
Air Force vs. The Army
Jonny is a vet from Iraq. Shawn lost hearing in his right ear during an accident while serving in the military. Shawn said to be able to follow in his Dad's footsteps is the best thing ever. Jonny said his grandfather was in the Air Force and that's why he was motivated to serve. Something country and something rock is what CeeLo chose for them to sing with "Refugee" by Tom Petty. CeeLo says it ultimately is about who gives the best battle on the day.
After their battle, Adam said "The thing with Tom Petty is that his songs are hard to sing. That was a really good performance. Adam picked Jonny. Blake said "That was hot!" he said repeating what some girl in the audience said. Christina admitted "my biggest regret was not pushing for you Jonny. You have the girls buzzing." She picked Jonny as the winner. CeeLo said "I hear soldier. There's something fanatic about you and there's something undeniable." His winner of the battle was Jonny. He picked Jonny he said "because he cuts through."
Watch Jonny Gray and Shawn Smith sing "Refugee" HERE
TEAM ADAM
Barry Black vs. Preston Pohl –  PRESTON (Battle Winner)
Adam said they are going classic with The Temptations tune "I Wish it Would Rain." Adam said, "Preston somehow seems to convince you that he is a famous soul singer." Adam sees Barry as someone who surprises them. Adam's adviser, Ryan said Preston went for a falsetto note that he missed, and that it can't be fixed on TV.
Blake said to Barry "Lets talk about the horn – air horn. Everything about you is cool." Christina said to Preston "Your voice is from a different era. She picked Preston. CeeLo also picked Preston. "It's hard to do a classic. Barry It's (the air horn) a testament to your character and you're encouraged to go out there and do something different," he said.  Adam picked Preston too.   "He's a modern soul singer" and thinks he could win "The Voice."
Watch Preston Pohl and Barry Black sing "I Wish It Would Rain" HERE
TEAM BLAKE
Holly Henry vs. Cilla Chan – HOLLY (Battle Winner)
Blake's adviser, Cher, told Holly she wanted to see her eyes so she could see how she feels. They sang "Torn" by Natalie Imbruglia. After their battle, Blake said he was trying to see who could really "rise up" and chose Holly as the winner.
Emily Randolph vs. Brandon Chase – BRANDON (Battle Winner)
They sang "Tiny Dancer" by Elton John. During rehearsals, Cher told Brandon he was "blowing a lot of air." As far as who's more developed as a vocalist is what Blake was going for. He chose Brandon as the battle winner.
TEAM CEELO
Keaira LaShae vs. Tamara Chauniece – TAMARA (Battle Winner)
They sang "Big Girls Don't Cry (Personal)" by Fergie, CeeLo chose the winner as Tamara.
TEAM CHRISTINA
Olivia Henken vs. Stephanie Anne Johnson –  OLIVIA (Battle Winner)

Olivia has entered over one hundred contests since she was 14 years old and says she doesn't want to be a tax preparer anymore. Stephanie spends ten months out of the year at sea as a cruise ship singer. Christina said they both have sass and spunk and can't wait to see what happens. They sang country song "Done" by The Band Perry.
Christina's adviser Ed, said as far as the song, "It's more about attitude than technical skill." Christina agreed with Ed and said "it's more important is to just sell it!"
CeeLo said it was a tough one for him. He pinpointed that it was Stephanie's first time hearing the record. He told her she left it all over the stage and chose her as the better performer. Adam said, "You both have great voices" but said Stephanie had more grit and went with her. Blake said he's going against the other coaches and said he knew when Stephanie "fell way out of pocket." When he listened to Olivia, she took the country approach and hit the notes more he observed.
Christina said the winner of the battle was Olivia. She said she picked who was more consistent and that Olivia "really owned the song." CeeLo stole Stephanie. It was his only steal.
Watch Olivia Henken and Stephanie Anne Johnson sing "Done" HERE
WATCH – THE VOICE Season 5 Episode 10 "The Battles Part 4" originally aired by NBC on Tuesday, October 22, 2013.
A new twist for the Knock Out is that the coaches get one more chance to steal this season!
UP NEXT – Check out the singers from THE VOICE's first night of knockout rounds in our article Getting Served! THE VOICE – Knockout Rounds Night 1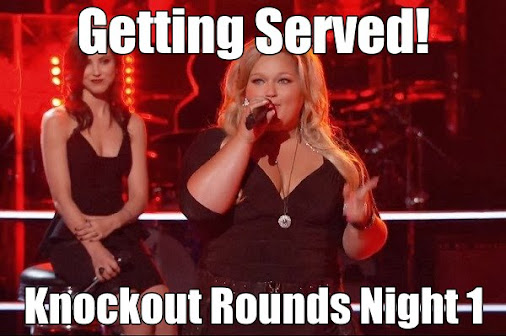 CATCH UP – Check out the singers from THE VOICE's first week of battle rounds in our article Dreaming With Eyes Open On THE VOICE – Season 5 Battle Rounds Week 1 Recap