At the top of tonight's episode of "The Voice" on NBC, Shakira said everything that Blake does, she's going to do. There were some odd coach and artist coupling that occurred in this episode. Usher ended-up with a Country singer, and Blake won-over a powerful R&B singer.
High-Voiced Best Friends!
Ryan Whyte Maloney – Team Blake
Button-pushers: Adam, Blake, Shakira, Usher
Usher said, "He's obviously leaning one direction. He has cowboy boots on. I wanted to hit my button earlier but I wanted to see if you'd continue to work hard…that's what it takes to make it on this show."
Adam played the common high-pitched voice card, "you have a high voice, I have a high voice. Basically we are best friends. You sound like Steve Perry and people are going to compare you to him."
Blake told Ryan "you sound like a different sounding artist that anything I've heard before." He said he saw Adam with a balloon backstage to get his voice high
Shakira said, "The fist sentence of a song is the hardest to attack. You did it with such grace. I think we should be together." Ryan replied, "I'm going to save that in my memory forever.. I have two sons and they would tell me to choose Team Blake."
Watch Ryan Whyte Maloney sing "Lights" and compare to Journey's 1978 hit http://hllywdjnkt.co/1qqTEHc
A Soul Music Awakening!
DeShawn Washington – Team Shakira
He said music has always been something that he wanted to pursue. He says he has a lot of pressure on him today because he is trying make a better life for him and his parents who are struggling financially.
Singing "Twistin' the Night Away" – by Sam Cooke
Button-pusher: Shakria
Usher said "I'm stupid. I really wanted to hit my button, but I didn't." Blake said, "That is old school. That is awesome! And Shakira got it! Damn!"
Usher regretted not pushing his button and said, "Its great he came out and sang what soul music is all about. I can't believe I didn't hit my button!"
Watch DeShawn Washington sing "Twistin' the Night Away" and compare to Sam Cooke's 1962 hit http://hllywdjnkt.co/1lPWCnQ
Sound Like No One Else!
Sam Behymer – Team Adam
Sam works as a nanny. The kids that she babysits call her their real life singing Mary Poppins. She said she's considering going to graduate school to become a Librarian and this 'Voice audition is the one thing that could change her life.
Singing "Royals"
Button pushers: Adam, Usher, Shakira
Adam said she has a unique voice and doesn't sound like anyone else. "There were some issues, but I can help you out," Adam told her. Usher said, "If you would like to be on my team, I could open you up to a world that you would like to know more about. I was able to go a long way with Michelle Chamule". Adam restated his point and compliment to her in his attempt to win her over to his team, "I honestly think it didn't sound like anyone which is a huge compliment."
Watch Sam Behymer sing "Royals" and compare to Lorde's hit 2012 performance http://hllywdjnkt.co/O3z1lf
Brendan Ryan
Brednan joined an improv comedy tour at the University of Massachusetts.
Singing "Love on Top" by Beyonce
Button pushers: None
Adam told him, "You are crazy good. Granted, it's hard when you're nervous. It didn't all come together at once. One of those thing that you just have to keep trying."
Blake made the point, "Were there some imperfections? – Yes. Was that a good reason why we didn't push our buttons? No."
Usher advised Brendan on his next blind audition to pick a record that represents who he is as an artist.

Two Halves of One:
Brothers Walker – Team Usher
Cody and Walker are 26 year old twins. They sang for Johnny Cash when they were little and ended-up opening one of his shows. They are from Bernie Missouri and joked that there is one stop- light in their little town.
Cody is an audio engineer at his brother's company. His brother is a Geometry teacher and does both the business and teach. "We've always been told that we make two halves of one voice," said the brothers. They are hoping for Blake Shelton as a coach.
Button-pusher: Usher
Usher sneaked and pushed his button with his toe. Blake said he isn't convinced that they are total Country artists, but all that matters is that they are great singers.
Usher said, "I don't know Country music, but what I do know is quality." Usher was excited about these new members on his team, "I get a chance to work in an area that I respect, but have never personally touched," he said.
Watch the Brothers Walker sing "Keep Me in Mind" and compare to Zac Brown's 2011 hit performance http://hllywdjnkt.co/1jX1PqK
Alexander The Great!
Clarissa Serna – Team Shakira
She's from Corpus Christie, Texas. She runs a singing group that helps build little girls' confidence. She started playing at 17 years old and started getting involved in different types of music.
Singing "Zombie" by The Cranberries. Clarissa is hoping to have Usher turn around.
Button-pushers: Adam, Shakira, Blake, Usher waited for the last second to push his button.
Blake said, "You just beat me down with your voice. It kept getting stronger, and stronger." Shakira, who stood-up dancing to her audition, said, "I love that song and I want to be your coach!"
Usher was the last to push his button. He waited just before seconds it was over. He said he waited because he wanted to "savor the moment." Adam said he loves the song because it's a very nostalgic song. "Its very '90s in a really great way," he said.
Shakira argued passionately to win Clarissa over. "Tactics never won a war, only strategy won a war. Are you going to end up with Hannibals here (pointing at Blake and Adam) Or are you going to end up with Alexander the Great (pointing to herself)?"
Clarissa said she had to go with her Latina soul sister Shakira. Shakria said she beat the three boys all by herself.
Blake said Shakira is taking-up all of the good talent and was getting annoyed.
Watch Clarissa Serna sing "Zombie" and compare to The Cranberries' 1994 hit performance http://hllywdjnkt.co/1h2MiCY
Lindsey Pagano made it to Team Shakria. Joshua Howard chose Team Adam, and Tanner James became a member of Team Usher. The 19 year old was called "a diamond in the rough" by Usher.
How Adam Would Audition!
Robert Lee
Robert is a post office worker. He said the Post Office is a great job, but his passion is music. He got married at the age of 20. They got divorced two years later. His daughter is seven years old.
Singing "The Weight"
Button-pushers: None
Blake said, "I wanted to hear you open up your throat from a chest sound." He said it sounded too nasally. Adam said, "Sometimes you need to have that moment. It's literally a technical thing. I would re-approach how I'd do things if I was on this show." Usher said, "You are more like a Rob Thomas."
Going To Be Unstoppable!
Melissa Jimenez – Team Usher
Melissa is 29 years old. Music is a big part of her family. Her father's band is called "Something Special Orchestra".
She really wants to be a solo artist. Melissa already signed a record deal, but it didn't work out.
Singing "If I Ain't Got You" by Alicia Keys
Button-pushers: Usher, Shakira
Usher told Melissa, "I'm glad you started your performance A Capella because I could really hear the quality of your voice."
Blake told her, "You really have a great voice. This chair swings around really wide and this chair would have hit Usher's jaw….I didn't want to do that."
Shakira said, "How many Latinas have made history in the U.S.?" Usher said I want to be the guy to go all the way to the end with you." During Usher's argument, Blake kept making fun of Usher, saying "I have to pickup all the names he's dropping now."Shakira said, "You are going to be unstoppable, unstoppable."
Melissa said she wants to be the female version of Usher and that she grew-up listening to him and wanted to be mentored by him which is why he chose Team Usher.
Watch Melissa Jimenez sing "If I Ain't Got You" and compare to Alicia Keys' 2004 hit performance http://hllywdjnkt.co/1eeYDlG
Dangerous Gargling Agent!
Patrick Thomson – Team Adam
Patrick is 35 years old. His mom had a folk band called the Sounds of Peace. His Mom used to take him to band practice and that's when he got a guitar. He said "you can take any material thing away from me but you can't take my music."
Singing "Cant' You See"
Button-pushers: Blake, Adam,
"I was trying to pretend that I didn't like it so none of them would turn around, then Blake turned around. You have grit. My team needs grit," said Adam.
Blake accused Adam of wanting to change him. Usher stepped-in to support Adam. Blake went-on to compliment Patrick's voice, "That type of sound where it sounds like you gargled with broken glass. You were born with that natural Joe Cocker voice." Then Blake pointed-out that Patrick was meant to be on his team because "he's wearing plaid!"
Adam said to Patrick, "He's (Blake) going to make you gargle with broken glass." After Patrick picked Adam, Adam asked Blake how did his butt feel after he just "whopped it!"
Watch Patrick Thomson sing "Can't You See" and compare to The Marshall Tucker Band's 1973 hit http://hllywdjnkt.co/1lrpxM2
So Close In So Many Ways:
Allison Bray
Seventeen year old Allison says she's been singing since she was seven years old. Loretta Lynn, and Patsy Cline are her inspirations. She's a blonde country singer from the South – which she said is a rare thing.
Singing "Where the Boys Are" by Connie Francis
Button-pushers: None
Adam told her not to be sad because they have a lot of good things to say. Blake asked her why she chose that song. She said she's an old soul.
Adam said, "What a nice refreshing song. There was so much that was so close. Refine what you're doing just a little bit and come back. You are so close in so many ways. Shakria said at the end she realized how amazing she is, but needed more time. Blake told her she needs to tweak it just a little more and when she comes back, she'll be a threat.
Celine Dion Approved!
Sisaundra Lewis – Team Blake
Sisaundra is 44 years old who was given a second chance by her kids. She said her kids told her that because she gave so much of her life to them, that now it was time for her to go after her singing dream.
Sisauddra grew-up picking fruit in the Florida orange grove. She said she dreamed of getting out of the orange groves and her voice saved her. She moved to Atlanta and became a vocal director for Celine Dion. Celine sent her a video message wishing her luck on "The Voice."
Singing "Ain't No Way"
Button-pushers: Shakira, Adam, Blake, Usher
Blake said, "I realize right now that I am completely in over my head. And how does your ears hold so much weight? (referring to her large metal earrings). I would buy your record if it came out tomorrow."
"Your voice is so electric. The way you perform is so powerful.. But I don't think that was your best. If that was not what your best sounds like, then wow, what does your best sound like!" said Adam
Usher said, "I was reluctant to hit my button because it is one of my favorite songs in the world."
Shakira played the girl power card by saying "You have a ravishing voice and these guys are not going to know how to take care of you. I'm good with girls!" Adam said "So am I!" Shakira said "Adam has a tattoo on his arm that says' 'wrong coach for you!'"
After much bickering between the coaches finally ended, Sisauddra made her choice. "Tonight my heart is leading me to say – I pick Blake Shelton"
Watch Sisaundra Lewis sing "Ain't No Way" and compare to Aretha Franklin's 1968 hit http://hllywdjnkt.co/1oGLpmv
MISSED IT OR JUST WANT TO SEE IT AGAIN?
Watch THE VOICE season 6 episode 3 "The Blind Auditions, Part 3" first aired by NBC on Monday, March 3, 2014. This full episode is now available at HOLLYWOOD JUNKET until 09/21/14 courtesy of NBC. ENJOY!
UP NEXT!
Check out all the "chair turners" from THE VOICE season six episode four, "blind auditions" in our article Pleasantly Opposite! THE VOICE – Blind Auditions Night 4 Recap http://hllywdjnkt.co/the-voice_s06e04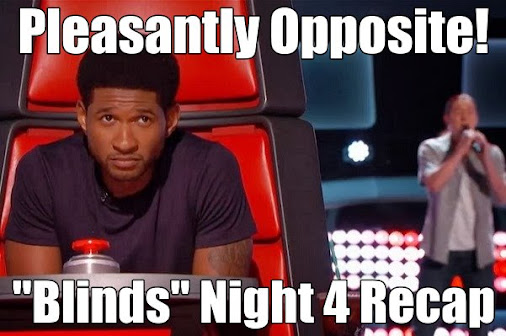 CATCH UP?
Check out all the "chair turners" from THE VOICE season six episode two, "blind auditions" in our article Red Leather Chair Test! THE VOICE Season 6 Premiere Night Two Recap http://hllywdjnkt.co/the-voice_s06e02