TEAM CEELO
AMBER NICOLE
Singing "Wasting All These Tears" by Cassadee Pope
Amber is a Senior at a performing arts high school. Her dad is a musician and her sister is a vocal coach. Amber said "This country song will show America I can be versatile"
After her performance, Christina told Amber, "Country suits you. You did your own thing with it, I hear a little Rhianna in there. Your confidence has grown. The second time you hit the note you nailed it!" Blake said, "you should have went with me for the country…You did a good job."
Adam's reaction was, "A good performance, just one big note was a little under, but was refreshing to see a different side of you." Coach CeeLo said, "you rose to the occasion with such class. I think you did a great, exceptional job I am so proud of you."
Watch Amber Nicole sing "Wasting All These Tears" HERE
JONNY GRAY
Jonny said that the Blind Audition was the scariest thing he has ever done."
He sang, "Bitter Sweet Symphony" by the verve
Christina said "So consistent you were really accurate, great with your tone. Great job!" Adam told Jonny he loved his voice so much that he "really enjoyed it" and that he did a great job.
Coach CeeLo said to Jonny, "Great job on one of my favorite songs. That sincerity in your voice the right marriage of a song and a singer, I hope America enjoyed it as much as I did."
Watch Jonny Gray sing "Bitter Sweet Symphony" HERE
TAMARA CHAUNIECE
Tamara sang "I Will Survive" by Gloria Gayner. She said she "felt a connection with CeeLo on a spiritual level."
After her performance, Blake told Tamara, "You look absolutely beautiful…You did that song great." Adam said, "You had your best performance! Really strong, congratulations!" Coach CeeLo told Tamara, "Wonderful job! You look beautiful doing it – the type of energy this show needs."
Watch Tamara Chauniece sing "I Will Survive" HERE
KAT ROBICHAUD
Kat sang "She Keeps Me Warm" by Mary Lambert. Kat said, "I choose CeeLo because I think we are soul mates."
Christina said of Kat's performance, "I got confused by the hug. I really appreciated your intent with the song."
Adam asked Kat, "Did you just hug someone randomly? That was awesome! I love that. Hugging the stranger was pretty sweet."
Coach CeeLo said "unconditional love exhumes from you. You are a whole think not just something to stare at."
Watch Kat Robichaud sing "She Keeps Me Warm" HERE
CAROLINE PENNELL
Caroline sang the White Stripes "We're Going to Be Friends." Caroline said "Putting my own little Caroline twist on it!"
After Caroline's performance, Blake said, "I could literally be getting an amputation and if someone was playing her all I could think about is cotton candy." Adam said, "I am so happy right now, for the first time we heard purely you. Beautiful rendition
CeeLo said, "Wonderful to me. Your voice is so sweet. I think America loves you
Watch Caroline Pennell sing "We're Going to Be Friends" HERE
TEAM CHRISTINA
JOSH LOGAN
Josh sang "Crazy". He said "I hope following my dream will show my son I did it because I wanted a career not just to have fun."
After his performance, Christina said, "What you did today was so original. You are a skilled vocalist, you are great, I loved it you made it your own."
Adam's reaction to Josh's performance was, "I am a huge fan of yours! You can literately do anything…did get a little complicated sometimes." CeeLo said he thought Josh did a "great job."
Watch Josh Logan sing "Crazy" HERE
OLIVIA HENKEN
Olivia sang "Roar" by Katy Perry. Olivia said, "I want to put a country twist on a pop song."
Christina reacted to Olivia's performance with, "You did my heart so proud. You are beyond one thing you can do it all." Blake said "I am surprised how well a country voice works on that song. You did great, very risky and it worked!"
Watch Olivia Henken sing "Roar" HERE
STEPHANIE ANNE JOHNSON
Stephanie sang "Georgia on My Mind" by Ray Charles. She said, "Before the Blind Auditions I was singing on cruise ships, but I want to reach a bigger crowd."
Christina told Stephanie, "You have such a unique quality to your voice a lot of richness. I could go on forever about Stephanie." Adam liked it, and said she "did a great job, opened it up and changed it to your own thing." CeeLo said "I am entertained, amazed and jealous. You commanded the crowd tonight!"
Watch Stephanie Anne Johnson sing "Georgia on My Mind" HERE
MATTHEW SCHULER
Matthew sang Miley Cyrus' "Wrecking Ball." He said,"Before The Voice I was a student working at a bagel shop. But singing has always been my dream."
Christina said "The audience – they love you! You always bring such charisma." Blake said "that was so good!" Adam's comment to Matthew was, "three hearts just broke. Everything you showed us on that stage is exactly what everyone needs to be doing!" CeeLo said "I hate how much I love you. You're doing a great job!"
Watch Matthew Schuler sing "Wrecking Ball" HERE
JACQUIE LEE
Jacquie sang "I Put a Spell on You" originally written and recorded by Jay Hawkins in 1956. Jacquie said "I wanna show Christina I took a risk with the song but planned it well" Christina said, "You have grown so much and I am honored to be your coach."
Adam reaction was, "You were tremendous. That was crazy – the emotion and how connected you were." CeeLo said, "oh my god that was the absolute best. You are the future."
Watch Jacquie Lee sing "I Put a Spell on You" HERE
Night three eliminations also revealed the final teams from Blake Shelton and Adam Levine whose artists performed on Monday night. All of the coaches had to make the difficult choice of saving their last, and third slot on their teams. For CeeLo it was Kat Robichaud. Blake chose to save Ray Boudreaux, Adam saved Will Champlin, and Christina's pick was Josh Logan.
WATCH – THE VOICE Season 5 Episode 13-B "The Live Shows Premiere, Part Two" originally aired by NBC on Tuesday, November 5, 2013.
WATCH – THE VOICE Season 5 Episode 13-C "The Live Show Eliminations" originally aired by NBC on Thursday, November 7, 2013.
UP NEXT – Check out all the highlights from THE VOICE Season 5 Episode 14 in our article A Dark Night On THE VOICE – Live Shows Week 2 Recap!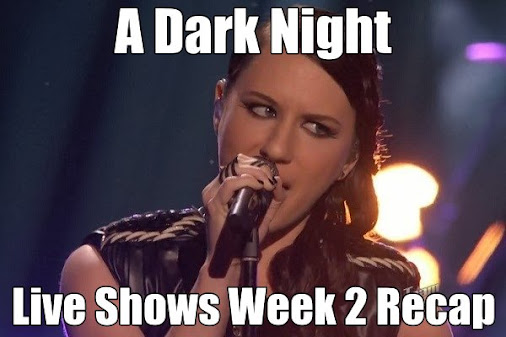 CATCH UP – Check out all the highlights from THE VOICE Season 5 Episode 13-A in our article It Does Not Get Better Than This! THE VOICE – Live Shows Night 1