The original chemistry between coaches Christina Aguilera, Adam Levine, Blake Shelton, and CeeLo Green is back and "incomparable." CeeLo said he is "ready to discover the next big thing." Contestants included:a Firefighter, a trucker, even a hotel administrator.
One contestant said her reason for being on "The Voice" is because "Four amazing artists can give you more insight than anybody else." The three-time champ Blake Shelton continued to remind the other coaches what he had achieved on the show by bringing along all three of his 'Voice trophies. Blake said, "I'm not going to say anything that I won 3 seasons." He said this while holding all three of his trophies in his hands and carrying them onto 'The Voice' stage for the other coaches to see.
Night three, week two of the Blind Auditions started off with Ray Boudreaux.
RAY BOUDREAUX – Team Blake
Looks Like Blake, Sounds Like CeeLo!
Ray is a young single father of 25 years old. He had his child when he was 22-years-old. Ray said that the biggest crowd that he's played for is 400 people and that the song and style that he sings does not match his image.
Blake was the first coach to turn his chair. After Ray's blind audition, Adam said, "You look like Blake and you sound like CeeLo. You have an epically cool voice. (Yes, he said "epic"!) The one issue was that you have a lot of gaps." Adam also pointed-out that "CeeLo just said he didn't know you were a white man." CeeLo responded, "I want to win with you."
Blake got in on the action. He said, "It was swampy. No wonder it was swampy. You're from Louisiana." Ray chose Blake, who later said, "I want to keep him swampy. I want him to keep that Louisiana sound. We haven't had that yet."
Watch Ray Boudreaux sing "Use Me" HERE
LINA GAUDENZI – Team Christina
Christina Wants to Be "Re-Inspired!"
Lina sang "Landslide" by Stevie Nicks.
Lina is a former model who gained weight while in High School and stopped modeling. She moved to Paris and started singing when she studied classical music. So, when she went back to Miami, she started singing and writing. Linda doesn't want to go back to playing in bars which is why she is on 'The Voice.'
Christina was the first coach to turn her chair during her Blind Audition. Blake said, "Damn girl, that was great!"
When Lina said she studied Opera, Christina said she had an Opera singer on her team in the past and he's gone on to do well.
Blake said, "I think Team Blake is a natural place for you to be." Christina said about Blake, "He speaks one language over there." Blake replied, "It's called winning." Christina said that she's back and wants to be re-motivated and re-inspired. Adam backed Christina, and said it would be a huge deal for a young artist to be with Christina and that "Christina saw her fist and she should be rewarded for that." Lina picked Team Christina.
Watch Lina Gaudenzi sing "Landslide" HERE
JUHI – Team CeeLo
Juhi sang "Mercy"
Sixteen-year-old Juhi has a Dad who has a PHD in electrical engineering and is into rock music. Her parents support her choice to hold-off on school and pursue singing if she gets a coach to turn around on "The Voice."
That's where Christina comes in. Christina turned her chair around first, followed by CeeLo. CeeLo told Juhi that she has a completely cool sound that sounded great. Nirvana and Sublime are the bands that she said she listens to. CeeLo told her it was a great rendition of "Mercy" that she sang.
Christina said, "I would love to coach you along the way, and give you advice. I just feel like your coach!" Cee Lo threw out there, "I will fight for you." Juhi said she's a fan of Gnarls Barkley and Christina Aguilera. She chose CeeLo who said, "Juhi seems like someone I would have made friends with in school. She's a little whacky."
Watch Juhi sing "Mercy" HERE
MALFORD MILIGAN – NO
Waiting For That Moment
Malford sang Al Green's "Let's Stay Together"
At fifty-four years old Malford explains he had to work in the cotton fields. He said, "The biggest struggle I have is that I'm a black Albino. I'm legally blind." He was the only Albino kid in his school He said he was picked-on and it was incredibly painful. He started singing to cope. Now he sings soul, rock and country.
"I like that that the auditions are blind because I worry the most how I look," said Malford. He says he still feels like a child. Ultimately, Malford said, "I see the voice as a chance for America to see who I am."
After none of the coaches turned their chairs, Adam reacted to his blind audition, "Man can you sing dude." CeeLo said, "It sounded so similar to the classic. Unless you do something totally different…"
Blake said,. "He can talk. I like his talking voice." Christina said, "Your voice is undeniable." Blake wants to buy a record, "This is not bull crap. Please make a record so I can buy it." Christina wrapped it up with, " I was waiting for that moment to solidify, to make me want to push that button and it just didn't happen."
JUSTIN BLAKE – Team Adam
It Takes Nerves
Justin sang a familiar tune called "Sure Be Cool If You Did" by Blake Shelton.
Justin works as an "escort driver." That means he drives behind motor homes. Justin has a baby on the way. "What makes me stand out is I'll be singing 'Sure Be Cool If You Did," by Blake Shelton. I need this to happen because I have a girl on the way and want to marry my girlfriend," said Justin.
Adam turned first. He said, "The second we hear what we just heard, we look over there (pointing to Blake) for approval from Blake. For the first time. I said screw him." Blake said "I think you just like to look at me." Blake said, "You picked a good one. It takes nerves to come out here and do one of my songs." Adam said, "I didn't know that was one of your songs." Then Adam hugged Blake and said, "Good song."
Blake chose coach Adam.
Watch Justin Blake sing "Sure Be Cool If You Did" HERE
TIMYRA-JOI – Team Christina
To Nurture and Protect
Singing "Girl on Fire" by Alica Keys
She's 15-years-old from San Diego. Timyra-Joi started singing since before she could talk she said. When she was nine years old, her dad lost her job. Her voice coach took them in for six months and stopped charging for her singing lessons. Timyra-Joe said she's looking to find who she is as an artist.
Christina turned around first. Blake and Cee Lo also turned. Christina was super impressed, "At the end, you nailed that run!" she said. In Adam's attempt to undercut Blake, he told Timyra-Joi, "You sound like an unpolished diamond, and I think Christina is the one for you." Christina played the female card once again, saying "It's different for a female growing up in this business." CeeLo just wants to nurture! "I want to nurture and protect and figure out where you want to go," he said. Blake chimed-in, "The strange thing is I won this competition last year with a sixteen-year-old girl."
Timyra-Joi said, "I went-in knowing I was going to pick CeeLo, but Christina fought for me." So she picked Christina.
Watch Timyra-Joi sing "Girl on Fire" HERE
MONIKA LEIGH – Team Blake
Building a Team Around This Girl
Singing "The Thrill is Gone"
Twenty-eight-year-old Monika Leigh sang from ages 13 to 21 at bars and cafes. She stopped at 22 years old. She said she gave-up on her dream. She got a job in a hotel. She's an administration assistant. Monika does laundry and guest laundry and makes up polices. She says it's fun. But she'd like to pursue her singing on 'The Voice.'
Adam and CeeLo turned around. Blake turned around at the end. Adam gave her a standing ovation. Blake and CeeLo both said, "I want to build my team around this girl." Adam noticed, "You sound really pure. It's hard to sound that way. You did it in a settle amazing way." CeeLo said, "I love the way you sounded so womanly." Blake said, "early on in your performance all the elements of being a technically good singer is there. It's just something that you have. It's star quality. I can give you three reasons why you should pick me." He brought out all three of his 'Voice trophies.
Watch Monika Leigh sing "The Thrill Is Gone" HERE
ZACH HINSON – NO
Blake's Building an Army
Singing "Drunk on You" country song
Zach is 21 years old . He said music is going to be able to give him more than firefighting can.
From Yakima, Washington, after Zach's blind audition, coach Blake said, "It really sounded like you spent more time developing the notes than the sound. You'll really be there." Adam noticed that he "took some risks that didn't pan out." Adam basically told Zach to come back.
In a backstage interview, Blake said, "Last year I made it my goal to build a country army. This season I want to do something different. But that means they all have to be really special and different."
BRIANA CUOCO – Team Christina
Moved by Power and Raw Talent
Briana sang "It's Been a Long Time"
From San Fernando Valley, Briana is the sister of actress Kaley Cuoco from "The Big Bang Theory" television show. Briana works as Kaley's personal assistant. She started singing when she was seven or eight years old. She said, "To be able to work with one of these coaches would be life changing."
Christina turned around. CeeLo came around at the very end. Christina said, "Sometimes you are sitting in a seat and you are struck by something. You are moved by power and raw talent. I really enjoyed it. You held out those notes really strong." Blake said, "that's a good pitch." CeeLo said, "I'm just a man in a humble position. I felt that same power in your voice that Christina described. Being near a powerful woman is my favorite place to be." Christina warned "you don't want him that close."
Briana chose Christina.
Watch Briana Cuoco sing "You and I" HERE
GEORGE HORGA JR. – Team Cee Lo
CeeLo the Shepard
Singing "Treasure" by Bruno Mars
He moved to Hollywood at 18-years-old because he wants to pursue music. It was hard on his parents because he said Romanians typically stay at home until they are married. He's from Portland Oregon.
CeeLo turned around first. Adam said "CeeLo is one of the best singer's I know. CeeLo is perfect to help Shepard that along." Christina said, "You have the right coach. He can do anything and he likes to experiment – I have high hopes for you." Blake said, "Because every year Cee Lo picks someone that Blake wonders what's special about him or her and by the end, he can see it.
After only Cee Lo turned around for him, George said, "Making the team today validates me moving to Hollywood."
Others that go selected on night three of the blind auditions were: Anthony (Team CeeLo), Cela Chaan (Team Blake), and Jacob Poole (Team Christina)
The final artist of the night was Preston Pohl
Watch George Horga, Jr. sing "Treasure" HERE
PRESTON POHL – Team Adam
Singing with Conviction
Preston sang "Electric Feel"
Preston is 26-years-old. His Mom and Dad sang in church. He sold close to 3000 Christian records from a band he was in. His band member passed away. Preston said he was a guitar player and a lot of people didn't know he can sing. He's never had a 9-5pm job, so he's always been singing.
All coaches turned around except Christina. Blake said, "That is strong." CeeLo said "Damn, dude you did one of my favorite songs of all time." Preston said his influences are "a little of everything. Rock, hip-hop, country. Anything with a hoop" Preston said.
Adam told Preston, "The conviction in which you sang, I believe in you. When I turned around you believed in what you were singing too."
Preston said he picked Adam because "he seemed like such a well-rounded musician."
Watch Preston Pohl sing "Electric Feel" HERE
Watch THE VOICE Season 5 Episode 3 – The Blind Auditions Part 3, originally aired on Monday, September 30, 2013.
Blake Shelton You're a dead man – Adam
WILL CHAMPLIN – Team Adam
Singing "Not Over You"
Will is a Los Angeles local from Sherman Oaks, Ca. He comes from a successful musician in his father who was in the group Chicago. Will said he wants to follow his famous dad's footsteps. Will said, "It's definitely hard to chase a dream like this." He has a wife and baby daughter. He labeled his 'Voice blind audition as "The most important performance of my life," and that the four coaches "will help me to become the artist that I want to become."
Blake pushed his button first, then Adam, then CeeLo. Adam said "You have a really incredible voice bro. There wasn't one thing that wasn't spectacular about that performance." CeeLo said he'd like to have him on his team as well.
Blake noticed, "That was a lot of powerful singing." He said Will was "singing his ass off" and that's why he has to wear suspenders. Will went with his gut and chose Adam. Will said he felt more of a connection with Adam.
Watch Will Champlin sing "Not Over You" HERE
MACY ESTES – No
Singing "The Way" Ariana Grande ft Mac Miller
Eighteen-year-old Macy is from Greenwood, Indiana and she brings an unusual style to The Voice. She said she was really shy and would sing and dance in her room. She watched her sister in show choir and decided to pursue it as well. "I have this other side that is dying to come out of me. Show choir is over, it's my time to do what I love." What that is she said is singing rap and pop. She sees The Voice as jump-starting her career. Macy has her heart set on Christina being her coach.
During her blind audition, none of the coaches hit their buttons. Adam said "You can hear the youthfulness and a lot of potential." Christina said, "I was looking for an extra special moment. That takes time on how you can take it one step further If you push yourself." She sang a rap that she made up for The Voice. Blake told her "The things that you're good at, you're really good at." Christina told her to "keep rapping." After she left the stage, Christina also said "Macy had a really cool voice. I'm looking for a little less of a safe approach."
STEPHANIE ANNE JOHNSON – Team Christina
Singing "Black Horse and Cherry Tree" by KT Tunstall
Stephanie is 29 years old and grew-up listening to a lot of soul music and classic rock. She said she loves singing classical voice. Stephanie got a job working on a cruise ship in Alaska. "Playing music is my most favorite thing to do." She's at sea eight months out of the year, and misses a lot of milestones and being part of her friend's and family's lives.
During her blind audition, CeeLo and Christina turned their chairs at the same time. CeeLo said, "You're such a pleasant surprise. I can't believe that was you singing that record." He also said that he saw Vicci Martinez in her, a past 'Voice contestant. Stephanie said that she went to school with Vicci. Wen asked what kind of musical artist she wants to be, Stephanie said "Indy soul music."
Christina finally got to try to win-over Stephanie, "I was over-taken by the energy you were putting out there. You came to life and you woke us up. I don't play guitar." Stephanie said, "You haven't had a winner yet, and I want to fix that. I pick Christina." After her blind audition, Christina said, "Stephanie is very sure of herself. She took me by surprise."
Watch Stephanie Anne Johnson: "Black Horse and the Cherry Tree" HERE
SAM CERNIGLA – Team Blake
Singing "It's a Beautiful Day" by Michael Bublé
Sam works in customer service for Groupon. One of his sisters has cystic fibrosis and his other sister has a brain shrinking disease. The biggest struggle he said is being away from his family who is in Michigan. 'Voice host Carson Daly showed Sam a video that his mother and sister made for him to cheer him on just before he went into his blind audition.
Blake was the first to push his button, then CeeLo. Blake said, "I tried to play this cool and wait until the end. First of all I love your sound. You're a complete vocalist. But, I love your style. What you're doing took me to a Michael Bublé concert." CeeLo said, "Your style is very mature. You sounded like a perfect gentleman. You sound sophisticated. I'm thinking this is a ladies man. This is a swinger." Sam chose Blake.
Watch Sam Cerniglia sing "It's a Beautiful Day" HERE
JENNIFER NEWBERRY – No
Singing "Locked Out of Heaven" by Bruno Mars
She's 32 years old and from Sweden. Her Dad was an exchange student in Sweden and met her mother. She was inspired by Christina Aguilera. She moved to Seattle when she was 22 years old. "I came here to be successful." Carson Daly showed her a video of her family rooting her on just before her blind audition. "This is the most amazing opportunity of my lifetime."
None of the coaches pushed their buttons for Jennifer. CeeLo said, "You're beautiful that's for damn sure. I wasn't even being critical. I love your tone. I love your breathiness." Adam said "You started strong. There were some issues with pitchiness." Blake was straight with her and told her, "I pick people who have a grasp of what they can do."
Christina's constructive criticism was, "You stuck with a little bit too much of what he (Bruno Mars) did with the record and we didn't hear who you are." After her blind audition, CeeLo said, "I'm here to win season 5 of 'The Voice'. I need someone who can dazzle this room."
Christina said she's looking for a show stopper. CeeLo said he's looking for someone who will go crazy.
JAMES IRWIN – Team Adam
The Best Comeback Ever!
Singing "Losing My Religion" by R.E.M.
The last time James was on The Voice was last season when Usher and Shakira were there. He said, "The coaches not turning around was disappointing." James admitted that he felt like he didn't give them the best version of himself. His wife went into labor and had twins that passed-away. When Shakira said he has second and third chances that inspired him. "I'm too stubborn to quit." He focused on his music more since his last audition. A year after he lost his daughters, he now has a son.
This time, all four coaches turned their chairs. He finished off vocals to "Losing My Religion" – "Just a dream..just a dream" But his dream had just come true. Adam said, "I don't think anyone's ever come back after not making it and have all four chairs turn around. I still think there are some things that need some work." James said he got distracted by the chairs turning.
"Not matter how great the song, it's really about the delivery. You intrigued us," said Christina. She also said, "I did punch may button before CeeLo. It seems like ou can do almost anything." CeeLo said, "I wasn't here last season. But I'm here now. R.E.E. the stature. Great rendition of that song. I was moved by it."
Blake said, "Whatever you did from that time span to what you did now, you're ready for this thing now. You're ready to win this now. Let's do this." It was very difficult for Irwin to choose a coach. He picked Adam. Adam reacted, "That accelerated improvement makes me think that there isn't anything that he can't do." James chose Adam because, "Adam was honest as a singer and as a performer."
Watch James Irwin sing "Losing My Religion" HERE
OLIVIA HENKEN – Team Christina
The Best Contest I've Ever Won
Singing "Two Black Cadillacs" by Carrie Underwood
At 25-years-old Olivia has entered over 100 contests since she was four-years-old. Her mom is her manager and her dad is her roadie. She said it's been hard to make it as a singer because she has a similar look as other blonde female country artists.
Christina pushed her button first, followed by a lagging CeeLo who turned at the very end of Olivia's blind audition. Christina said, "Olivia you have to be on my team . I was struck by your voice. It was very powerful. I'm glad that Blake didn't push his button I need a woman on my team who will take it to the end."
CeeLo got surprised reactions and laughs from the audience and coaches when he said, "I will challenge you and put you in different positions." Then clarified himself, "Professional positions!" Olivia described her style as "I'm country with a little rock to me" Adam asked her who her favorite singers are in which she answered, Carrie Underwood, and Guns'n'Roses among others. CeeLo said "You are the ultimate alternative artist. I can do that." CeeLo said he is Country with a little rock. Olivia chose Christina.
After her successful blind audition, Olivia said, "This is the best contest I've ever won."
Watch Olivia Henken sing "Two Black Cadillacs" HERE
JASON KERTSON – No
Back to the Drawing Board
Singing "Lips of an Angel"
16 years old from Seattle Washington. When he was grounded in his room for two weeks, he got his father to teach him the guitar.
His father said he know Jason was gifted when he was 9 and surpassed his abilities on the guitar.
put the video onto YouTube and it got a lot of responses and attention. Got
"I'm a rock guy with gritty voice'
None of the coaches turned for Jason. When Blake saw him, he said, "Oh man that's not what I thought you were going to look like at all!" Adam was also surprised to see Jason's youthfulness, "It makes me feel like less of a man to know that there's a 16 year old that sounds more like a man than I do," said Adam. CeeLo explained, "A lot of us are looking for something that will blow us away."
Adam's advice to Jason was, "Go back to the drawing board and come back here." Christina said, "I know you were a cuttie pie because I saw all the girls jump up. I was a very young singer starting out myself. Sometimes you win some. Sometimes you lose some. But You become a better and greater artist because of it. "
After Jason left the stage, Blake said, "There's something special about that guy. I hope he comes back."
R. ANTHONY – Team CeeLo
Singing – "Hall Of Fame"
33 years old from Tampa Fl. With 3 brothers and sisters, He said he felt like he didn't fit in. When he had a baby on the way, he said he had to "close down shop" on his singing and got a real job working in a customer service position and became a trainer he said that helped him speak professionally. "I am so pumped to have these original coaches back. Once in a life-time deal."
Christina turned her chair first. Then CeeLo followed. R. Anthony said e's been singing in a gospel trio for the last ten years. Christina said, "I love runs and someone that can do them really well. I want you on my team!"
CeeLo said he waited to push his button because he was basking in R. Anthony's sound. "I just don't want to lose out on something that I want." said CeeLo R. Anthony chose CeeLo. In a post interview, CeeLo said, "I hit my button at the last minute. His voice is dynamic and I"m glad that he's on my team." Christina reacted to her loss, "He (CeeLo) had a lot of conviction of what he said to Anthony and that one slipped through my fingers."
Also added to the coaches teams were: Keara Lashe (Team CeeLo); Amber Nicole (Team Christina) and Emily Randolph (Team Blake).
Watch R. Anthony sing "Hall of Fame" HERE
JUSTIN CHAIN – Team Blake
Singing "She's Country" by Jason Aldean
Grew up with his mom and dad singing. He tried to start a band but there was no money to start it so he focused on sports. IN 2008 he was in a head-on collision with an SUV. He flew 40 feet. It took 500 stitches to piece his body together along with screws. "Music to me is one of the most powerful things there is. I was given a second chance and I don't want to waste the rest of my life," said Justin.
Blake turned his chair first at the clear sound and perfect notes of Justin's country music singing. No other coaches turned around. Blake called the other coaches "idiots". Christina said "do you think any of us would try to compete with you on that?" CeeLo said "You'd pick Blake anyway right?" He said "yes" unless someone else really blew him away.
Watch Justin Chain sing "She's Country" HERE
ASHLEY DUBOSE – Team Adam
Singing "Diamonds" By Rihanna
At 23 years old, Ashley said, her mother would make me sing for for friends and family. Her and three siblings were raised by her mother who was a single mother. Ashley spends the majority of her day at work as a full-time programmer analyst. She is also a single mother. Ashley says she feels like she's spreading herself thin and juggling things for so long. "This is my time and I have so much to offer through my music. I don't want to live a life of constantly wanting something that's not going to happen."
Christina and Blake turned first followed by Adam, then CeeLo. Christina motioned air trafficking motions with her arms telling Ashley to choose her. Adam reacted, "Your voice cuts like a razor through this entire place. Your voice just over took the room. That's why we turned around." All four coaches were surprised when Ashley told them that she is not singing professionally yet.
Christina described something special in Ashley's voice, "It's all about timing and tone and making sure that nothing goes off the mark. Oh my gosh I'm stupid if I don't press my button right now." Blake did his best to win her over, "It's a partnership. It's not about me forcing my agenda on somebody." Adam said, "I want to personally dethrone Blake Shelton." He also said, "You did a song that can be limited to a singer. But, didn't limit you at all."
CeeLo made his argument, "I would ultimately be you becoming a part of my life. Front row at the Grammy." Then Christina had one last thing to say which should have won Ashley over, "I truly just want to find someone with the same dreams and passion like me when I started out. You need to pursue this dream no matter who you go with. But I hope it's with me."
Ashley chose Team Adam because she said they "have the same tastes in music."
Watch Ashley DuBose sing "Diamonds" HERE
Watch THE VOICE Season 5 Episode 4 – The Blind Auditions Part 4, originally aired on Tuesday, October 1, 2013.
UP NEXT – Singers from THE VOICE's third week of blind auditions in our article Guitar Rock'n On THE VOICE – Season 5 Blind Auditions Week Three Recap.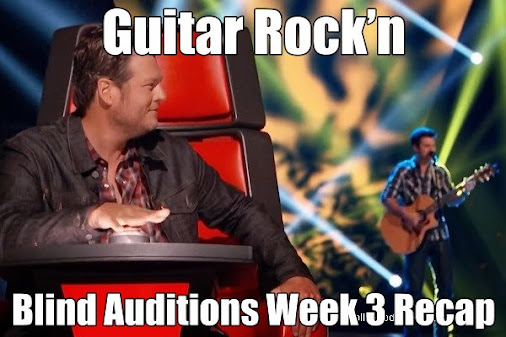 NEED TO CATCH UP? – Check out the singers from THE VOICE's first week of auditions in our article Powerhouse Competition THE VOICE – Season 5 Blind Auditions Week One Recap